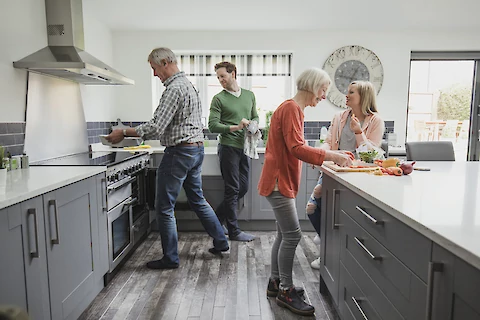 he Passover Seder Meal is a traditional meal shared by Jewish families around the world. But as the holiday season approaches, many seniors might find that meal preparation for the occasion can be a daunting task. It can cause feelings of stress and exhaustion. Fortunately, with a little help and planning, you and your family can make Passover preparation an enjoyable and stress-free experience. In this blog post, Senior Helpers San Jose, your local in-home senior care company, will share tips and advice on how to start sharing the Passover meal preparation so that your elderly relatives aren't overwhelmed. From researching recipes to planning out the meal preparation and finally cooking the meal together, we'll provide you with the tips and advice you need to make the process easier and more enjoyable.
Researching Recipes For the Seder Meal
When researching recipes for the Seder meal, it is a good idea to find traditional recipes that have been made in your family for many years. Ask your parents and elderly relatives for their favorite recipes and any tips they may have. You can also look online or use traditional cookbooks for recipes. Knowing and understanding the ingredients and any special dietary restrictions can make all the difference when selecting a recipe. Make sure to note any necessary modifications or substitutions that might need to be made to accommodate everyone. 
Purchasing the Necessary Ingredients
After selecting recipes you will use for the Seder meal, list all the necessary ingredients and begin shopping for them. You can shop at local San Jose area grocery stores or head to the specialty markets to get the freshest ingredients. Many grocery stores stock Passover-specific food items in a special section of the store. It's a good idea to keep an eye on your budget to ensure you don't overspend. 
Planning Out the Meal Preparation
Once you have all the ingredients you need, it is time to plan the Passover meal preparation. Assign tasks to family members and schedule meal prep times. Make lists of what each person needs to do and when they need to do it. This ensures all tasks are completed on time.
Preparing the Meal Together
Set up a prep area so everyone can companionably work together in the kitchen. Assign each person tasks according to their skill level to ensure everyone has a comfortable and enjoyable experience. Share both large and small preparation tasks and involve everyone in the process. 
Get Quality In-Home Senior Care With Senior Helpers
Sharing the Passover meal preparation with your family and elderly relatives can be an enjoyable and stress-free experience. With some planning, you can make it a special time and create lasting memories. If you and your elderly relatives need extra help with meal preparation or other in-home senior care services in San Jose, Santa Clara, Santa Cruz, or Campbell areas, contact us today at Senior Helpers San Jose for more information on how we can help.