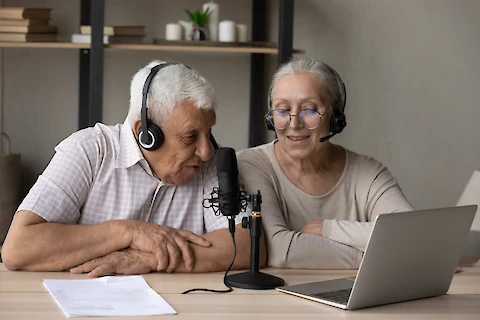 5 Ways to Record Holiday Stories from Senior Relatives
One of the most meaningful and rewarding ways to spend time with a senior loved one is by listening to their storytelling. Seniors possess a rich treasure trove of lifelong experiences and an intimate knowledge of family history worthy of recording. 
Preserving a senior's holiday stories and memories connects the past to the present, and it is sure to be appreciated for generations to come. Here are a few simple tips and options that family members can use to chronicle the joy of a life well-lived.
Honor a Senior's Life with a Home Video
There is no better way to capture the memories of the holiday season than by recording a home video. You don't need fancy equipment thanks to the amazing camera system capabilities of many smartphones. Storytelling apps like StoryCatcher for iPhones can produce professional-style videos ideal for digital sharing. All it takes is encouraging seniors to tell their stories and a creative eye to capture the conversation in interesting and innovative ways. Asking questions and exploring unique perspectives can result in impressive footage.
Assemble a Personalized Scrapbook
Scrapbooking, by its very nature, is a tried and true method of preserving memories. Canva's online scrapbook maker offers family members a fun and easy way to record a senior loved one's holiday stories. Canva provides a wide range of free scrapbooking templates with a variety of themes and designs. Upload holiday photos, favorite images, or family journals using stylized and customized effects and filters. Seniors can get in on the action by adding elements or editing the final product on their own laptops. 
Create a Keepsake Book with Storyworth
Storyworth is a fabulous resource for recording the great and colorful life stories of your senior loved ones. With Storyworth, family members can collect meaningful memories and moments by simply asking questions. Seniors are able to relate their holiday adventures by sharing their experiences one answer at a time. Stories are collected throughout the year and then bound into a beautiful keepsake book that is sure to become a family treasure. Storyworth is the ultimate holiday gift for any parent or grandparent.
Share Stories Through Family Recipes
Family recipes are about more than just food. Many have been passed down through the generations and can be traced to cultural traditions and family roots. Your senior loved one's personal connection won't be found in the recipe directions or ingredients, but food memories are often grounded in a rich personal heritage you will want to preserve and record. Along with the recipe, make note of the occasions when that particular dish was served and what memories it invokes. The Heirloom Project is a cool resource for archiving family recipes into cookbook form.
Start a Family Memory-keeping Blog
Starting a family blog might be one of the best ways to record holiday stories from senior relatives. Blogging platforms make it easy to upload photos, add text, and incorporate old memories or new events whenever you want. Encourage seniors to get involved in the process by including their own memory journey. Giving administrative access to the blog to more tech-savvy seniors allows them to record holiday and other lifetime stories at their own pace. The ever-growing blog will become a family story legacy and tradition enjoyed by many throughout the years.
Choose Senior Helpers for Trusted In-home Care
Senior Helpers is the most trusted name in quality and customized in-home care. We offer our services in the San Jose, Santa Clara, Santa Cruz, and Campbell areas. Contact us anytime and let us know how we can help provide the peace of mind you and your loved ones deserve.