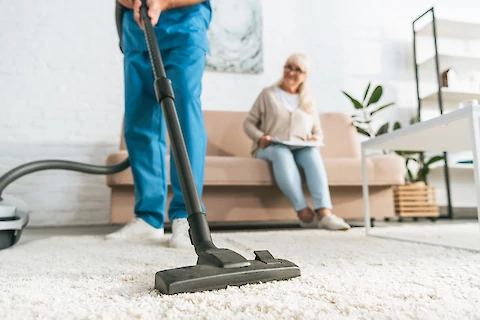 The first days of spring bring thoughts of warm days, blooming flowers, and a renewed sense of energy. But it also means it's time for spring cleaning. Managing the tasks associated with spring cleaning can be difficult for seniors living alone. Senior Helpers San Jose, an in-home senior care company serving San Jose, Santa Clara, Santa Cruz, and Campbell, wants to ensure no senior has to tackle these demanding tasks alone. In this blog post, we will look at spring cleaning tasks seniors shouldn't do alone and provide tips for finding help.
Spring Cleaning Chores That Should Not Be Left to Seniors Living Alone and Why
Seniors living alone face several risks when attempting to manage spring cleaning. The three most common tasks associated with spring cleaning seniors should avoid doing include:
Dusting high and low surfaces
Carrying heavy items
Scrubbing hard-to-reach places 
These can be challenging and come with certain risks such as:
Risk of injury — Spring cleaning may involve working in awkward positions or lifting heavy items, putting seniors at risk of falls, slips, and strains. Additionally, seniors living with mobility issues or chronic illnesses may be at a higher risk of injury.
Inability to reach high and low places — Seniors living alone may not be able to reach surfaces that are too high or low, including shelves, window blinds, and cobwebs in the corners of their homes.
Overexertion —Though many seniors living alone are used to handling all of their cleaning chores after a lifetime of working, doing so can be physically and mentally taxing. This can lead to fatigue and burnout, especially for those living with chronic illnesses.
Tips for Getting Help With Spring Cleaning
Seniors should not have to tackle spring cleaning by themselves. Finding the help and support they need to maintain a clean and comfortable home makes all the difference. Following are several tips for getting help with spring cleaning.
Hire professional cleaners — Professional cleaners have the training, experience, and knowledge to manage spring cleaning tasks.  They have the expertise and access to cleaning supplies and products to ensure a thorough cleaning throughout your home. 
Ask family and friends for help — Seniors living alone may feel uncomfortable asking family members or friends for help with cleaning tasks. However, it's important to remember that everyone needs help at times. Family members and friends can pitch in to dust surfaces, move heavy furniture, and offer moral support. 
Utilize community resources — There are many opportunities within the community to help seniors living alone with spring cleaning. For example, many faith-based organizations, schools, and community centers offer volunteer services. Additionally, many organizations offer discounted or free services to seniors on limited incomes.
Senior Helpers Can Help With Spring Cleaning Chores
Spring cleaning can be difficult for seniors living alone, but there are many ways to get help. At Senior Helpers San Jose, we understand the importance of maintaining a clean and safe home environment for all seniors. We provide professional, experienced in-home senior care that can help you or a loved one safely manage spring cleaning tasks. Contact our team today to learn more about our services.