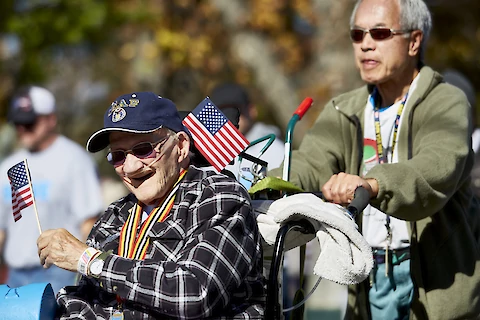 Memorial Day is a special time for all Americans to honor and remember the brave men and women who have served and sacrificed their lives for our country. For seniors, this day holds even more significance as they may have friends, family members, or personal experience with the sacrifices of the Armed Forces. And many of them might want to be more involved in the events of this special day than just being a spectator. For that, here are some local volunteer/ tribute ideas they can try for Memorial Day. 
Volunteer For Memorial Day Parades
Throughout La Mesa, San Diego, El Cajon, Santee, and Lakeside, there are numerous Memorial Day parades that seniors can volunteer at. As a senior, you can take on roles such as an organizing committee member or even help with the coordination of floats and participants. Reach out to your local city or community centers for information on how to get involved in the nearest parade.
Participate in Memorial Day Services
Often held at veterans' cemeteries and memorials, these events require volunteers for tasks such as handing out programs, setting up chairs, or helping with crowd control. Seniors can also participate in laying wreaths or reading aloud the names of the fallen heroes. Contact your local veterans' organizations or city offices to find out about nearby ceremonies.
Organize a Picnic
Seniors can also bring the community together by organizing a Memorial Day picnic. This can involve roles like event planning, coordinating volunteers, and even preparing speeches and presentations. 
Picnics could also include games and activities for all ages, as well as a space for veterans to share their stories. Reach out to local parks and recreation departments or community centers for potential picnic locations.
Support Veterans' Organizations
Supporting local veterans organizations is another great way for seniors to stay involved year-round, not just on Memorial Day. Roles within these organizations can include administrative support, event planning, or organizing fundraisers. Familiarize yourself with the veteran organizations in your area and inquire about volunteer opportunities that suit you best.
Participate in Flag Planting
For those who want to make a visual impact, coordinating a flag-planting initiative is a meaningful tribute to our fallen heroes. Seniors can take charge of organizing volunteers, purchasing flags, and mapping out locations for planting. You can also reach out to your community to gather support and execute this heartfelt project.
Host a Film Screening
If you're passionate about film, consider hosting a Memorial Day film screening. You can play a part in choosing relevant films, coordinating with local theaters or community centers, and promoting the event. Films related to Memorial Day might include war documentaries or classic films showcasing the courage of our Armed Forces.
Care and Support for Seniors in the Community
Seniors have many opportunities to get involved in their communities and help run, manage, or support Memorial Day activities.. If you or a loved one needs support or assistance at home or in attending those activities, Senior Helpers East San Diego is here to help. We serve the La Mesa, San Diego, El Cajon, Santee, and Lakeside areas. Contact us today to learn about our in-home service options for veterans and other seniors in the community.