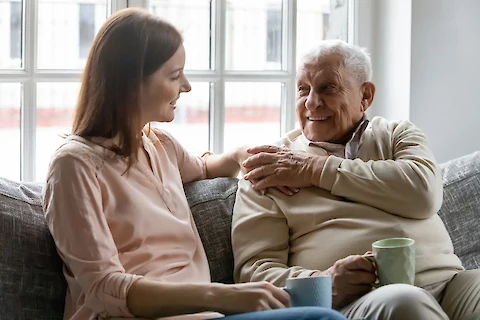 Making decisions about healthcare can be challenging, especially when you're talking to senior relatives. For instance, both dialysis and kidney replacement are possibilities for failing kidneys. Each has special considerations, so you must come prepared with the correct information to offer your loved one.
In this blog post, we'll look at both the pros and cons of each option. At Senior Helpers Riverside, we believe that having all the facts allows you to make a more informed decision when discussing dialysis vs. kidney replacement with your elderly relatives. 
Definitions of Dialysis and Kidney Replacement
Dialysis is a temporary treatment. It filters and purifies the blood when a person's kidneys can no longer do this on their own. It requires regular visits to an in-patient facility or clinic for treatments every few days.
Kidney replacement is usually considered for those who have irreversible kidney failure. It involves using a healthy donor's kidney to keep your loved one functioning normally.
Pros and Cons of Dialysis
Dialysis can offer your elderly relative a chance to maintain their current lifestyle and activities. There are many different types of dialysis procedures available. Home dialysis allows individuals to use portable machines while they go about their day. This option also offers fewer risks and complications than kidney replacement. Some of these risks may include infection, blood clots, or fluid overload. 
In-hospital treatments need to be completed often. Missing appointments will only lead to complications and illness. Ensure that there's a plan in place to help your loved one maintain consistency. You may need to offer rides or book their transportation so they can make it.
Pros and Cons of Kidney Replacement
Kidney replacement can improve the quality of your relative's life and allow them to live almost normally. Complications are still possible, however. These may include infection from surgery or rejection of the new kidney, over time.
Your loved one will also need medication for the rest of their life to control any organ rejection. They'll have regular check-ups at clinics throughout their recovery period as well. You must know where they should go and how to get there regularly following any procedure.
How to Talk to Elderly Relatives About Options
Listen to Concerns
Before you talk to your elderly relative about dialysis or kidney replacement options, you must listen to their concerns. Don't make any assumptions before hearing out everything they have in mind. This will allow you to discover what they think and feel so that the conversation is more open. It will mean less stress for everyone involved. 
Explain the Options
Once their concerns are on the table, your next step should be to explain all available options. Give as much detail as possible without overwhelming them with information.
You need to also explain how each one works when discussing dialysis vs. kidney replacement. Offer pros and cons so that you can make a decision together about which solution might be best for them. It's important to note, however, that kidney replacement is a more worthwhile long-term solution. 
Offer Support
Offer support throughout this process whenever possible. Practical help through transportation or errands related to treatments is needed. Emotional support when healthcare options come up during conversations or hospital visits is also vital.
Reach Out to Senior Helpers Riverside
Making healthcare decisions with your senior loved one doesn't have to be an overwhelming process. Senior Helpers Riverside is a senior care company dedicated to making this process easier for you and your loved one. We provide in-home services and employ both full-time and part-time caregivers. The goal is to make the transition less stressful for your family.
We strive to provide quality and compassionate care throughout Riverside, Hemet, Moreno Valley, and San Jacinto so that both you and your relative can feel confident about any decision made regarding their health. Contact us today for more information!