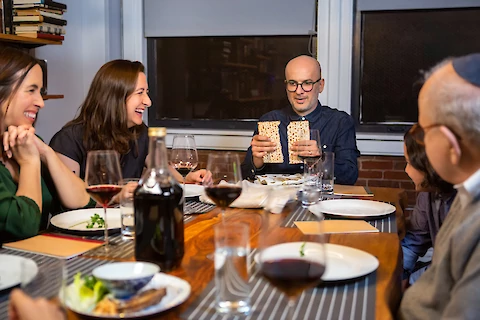 Passover is an important Jewish holiday, and it can be particularly challenging for elderly relatives to manage all the preparations. At Senior Helpers Riverside, an in-home senior care company, we understand how important it is to make sure your elderly relatives don't become overwhelmed by the planning and cooking. 
Here, we'll provide you with some insider tips to share Passover meal preparation responsibly so your relatives in Riverside, Hemet, Moreno Valley, and San Jacinto are not overburdened. Let's get started!
Work Together to Make a List
Working together is the key to making sure that your elderly relative doesn't become overwhelmed. Start by enlisting the help of the whole family to make a list of all the items needed for the Passover meal. Make sure to include items like meats, vegetables, drinks, and anything else that needs to be prepared. Be sure to include the amount of each item the meal will require.
Assign Tasks
Now that you're all on the same page, you can assign tasks to each family member. Assign chores that make sense according to age, ability, and experience. This way, everyone can contribute without feeling overwhelmed. To make it easier, assign tasks that can be completed away from your relative's house.
Check In with Your Elderly Relative
Once you have a plan in place, it's important to check in with your elderly relative to make sure they are in agreement with the tasks that have been assigned. This will also provide an opportunity to discuss any special needs they may have so you can adjust the plan accordingly. Be sure to give your relative plenty of time to rest in between each task and check in with them frequently throughout the meal prep process.
Have Everyone Help Clean Up
Once the meal has been enjoyed, make sure to enlist the help of everyone to clean up. This will ensure your elderly relative doesn't become overburdened by the post-meal chores. If you find it easier to divide up the clean-up tasks among your relatives and friends, consider doing that. It might help to keep everyone on task so that clean-up can be done quickly. 
Senior Helpers Is Here to Assist with Meal Planning
If cooking for Passover seems like too much to handle for you and your senior loved ones, you can always opt for ordering some catering or meal delivery service. That way, you can still enjoy a delicious meal without all the work and in-advance planning that cooking a meal yourself would require.
Now that you know how to share Passover meal preparation with your elderly relatives, the team at Senior Helpers Riverside is here to help with any additional support you may need. We're here to make sure your senior relatives have a beautiful Passover celebration that is enjoyable and stress-free. Contact us today to find out more about how our in-home senior care services can help your family.