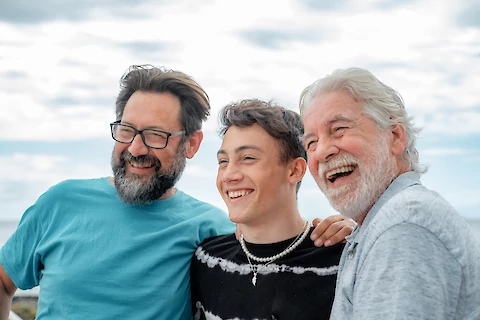 Father's Day is a special time to celebrate and honor the father figures in our lives, and these celebrations become even more meaningful when they involve multiple generations. However, planning a multi-generational Father's Day celebration can be quite challenging, especially if you have to accommodate various interests, schedules, and additional celebratory groups like in-laws. Let's dive in and create some unforgettable memories with our loved ones!
Scheduling Different Events
One option for celebrating Father's Day with multiple generations is to plan separate events for each father figure, allowing for quality one-on-one time and tailoring activities to each individual's interests. When doing this, it's essential to communicate with family members and coordinate schedules efficiently. Prioritize events and try to spread them out over the weekend to avoid overwhelming yourself.
A helpful tip for managing multiple events is to allow for downtime and self-care, ensuring that you have enough energy to enjoy each celebration fully. Remember, pacing is key when it comes to planning a smooth and enjoyable multi-generational Father's Day.
Planning a Group Event
If you're thinking of bringing everyone together for a joint celebration, it's crucial to select an activity that suits all ages and consider everyone's mobility and accessibility needs. By incorporating the hobbies and interests of all involved, you're more likely to create a memorable and engaging experience. 
When organizing the logistics of the event, make sure to plan transportation, meals, refreshments, and special accommodations to make everyone feel comfortable and included. During the celebration, encourage interaction between generations by sharing stories, engaging in group activities, and capturing memories through photos and videos.
Balancing Additional Celebratory Groups
Celebrating Father's Day with in-laws can add another layer of complexity, but it's essential to communicate with your spouse or partner about your plans and priorities. Make sure to divide responsibilities when it comes to organizing and attending events, so everyone feels supported and included.
To manage multiple celebratory groups, try combining celebrations when possible, or set boundaries and manage expectations ahead of time. This way, you can ensure that each father figure feels valued without overextending yourself.
Ensuring Your Own Enjoyment
Amid all the planning and organizing, it can be easy to forget about your own well-being. Make sure to prioritize self-care by allowing for downtime between events and engaging in activities that bring you personal joy. This will help you stay energized and present throughout the celebrations.
Set realistic expectations for the day, accepting that not everything will go as planned and focusing on the positives instead. Remember, what's most important is the time spent with your loved ones and the effort you've put into making the day special.
Get Help for Seniors on Father's Day and Beyond
Celebrating Father's Day with multiple generations can be challenging, but the memories created make it all worthwhile. Use the tips and strategies outlined in this guide to plan a memorable and enjoyable Father's Day that honors the father figures in your life.
If you're in the Riverside, Hemet, Moreno Valley, or San Jacinto area and need assistance with elderly family members, Senior Helpers Riverside is here to help. Our compassionate caregivers can provide the support you need, allowing you to focus on creating lasting memories with your loved ones. Contact us today to learn more about our services and how we can provide support for elderly fathers, grandfathers, and other senior loved ones.