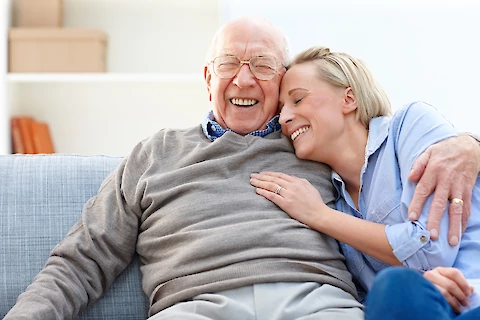 Father's Day is a special time to celebrate and honor the elderly fathers and grandfathers in our lives. As our loved ones age and face health challenges, it's especially important to make the most of this special day, cherishing the time we have together. We understand how difficult it can be to plan a meaningful celebration for someone with severe health concerns, and we're here to help.
Plan a Special Day
When planning a memorable Father's Day celebration for your elderly father, it's essential to take into consideration his interests and hobbies. Try to plan a day filled with activities that bring joy to your father while also being mindful of his health constraints. Remember, the key to a memorable Father's Day is spending quality time together to create lasting memories that everyone will cherish. Take the time to plan a special day ahead of time so that you can create those important memories. 
Activities to Consider
Hosting a Small Gathering
A great way to spend Father's Day with your elderly father is by hosting a small family gathering. Keep it low-key by inviting only close family members to create a relaxed and intimate atmosphere. Prepare your father's favorite dishes or order from his preferred restaurant to make the day even more special. Encourage everyone to share stories and reminisce about their favorite memories involving your father, fostering a sense of love and connection.
Watching Something You Both Enjoy
Another enjoyable activity can be watching a favorite movie or sports game together. Choose a film or game you know your father will enjoy and set up a comfortable viewing area with plenty of seating and snacks. This simple activity offers a great way to bond and enjoy each other's company.
Sharing Memories
A thoughtful way to celebrate Father's Day is by creating a memory book or scrapbook together. Gather photos, mementos, and stories from various family members that showcase your father's life and accomplishments. Spend time together assembling the book and, once completed, present it to your father as a heartfelt Father's Day gift.
Going on a Scenic Drive
If your father is up for it, consider taking a scenic drive as a special treat. Plan a route that includes some of his favorite sights or places he holds dear. Make sure the vehicle is comfortable and accessible for your father and, if possible, stop at a favorite spot for a picnic or a short walk to enjoy some fresh air and scenery.
Capture the Memories
Documenting the day's special moments is crucial in preserving these precious memories. Take photos throughout the celebration, capturing the smiles, laughter, and love shared between your father and his family. Record video messages from family members expressing their love and appreciation for your father, creating a cherished keepsake. After the celebration, compile the photos and videos into an album or digital slideshow for your father to enjoy in the future.
Offer Support and Encouragement
It's important to recognize the emotional challenges that come with celebrating Father's Day with an aging parent. Reach out to friends, family, or professional caregivers for support and encouragement as you navigate this difficult time. Make sure to practice self-care and maintain a positive outlook, as this will also have a positive impact on your father.
Creating a special and memorable Father's Day for your elderly father is an invaluable gift for both of you. Cherish the time spent together and the memories created, knowing that these moments will live on in your hearts. 
Give the Gift of In-home Care for Father's Day
If you or someone you know is in need of additional support in Riverside, Hemet, Moreno Valley, or San Jacinto, reach out to Senior Helpers Riverside for professional caregiving services. In-home care could be the perfect gift for your father this year.