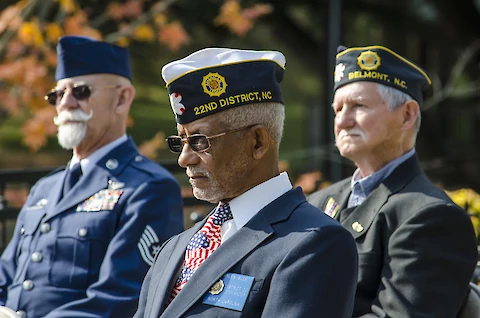 Since May is designated as Military Appreciation Month, it's the perfect time to recognize and honor the sacrifices made by our service members, veterans, and their families. Senior veterans, in particular, deserve our gratitude for their years of commitment and dedication. This blog post will guide you through some of the best discounts, events, and offers available for seniors during Military Appreciation Month. Keep reading to discover national and local benefits available throughout May.
National Offers and Benefits
One of the highlights of Military Appreciation Month is Armed Forces Day, which falls on the third Saturday of May. Many retailers and restaurants nationwide offer special discounts to veterans and active-duty military members as a thank-you for their service. Watch for deals at your favorite stores and eateries throughout the month.
Memorial Day, on the last Monday of May, marks another opportunity for seniors to enjoy discounts and sales. Retailers often slash prices on a wide range of products, while travel companies, including hotels and airlines, may offer exclusive discounts for veterans and active military members. Don't miss the chance to grab a great deal on a vacation or snag a bargain on a new outfit.
The Veterans Advantage program provides year-round discounts and benefits for its members, but they often have special offers during Military Appreciation Month. To take full advantage of these offers, consider joining the program and staying up-to-date with their ongoing promotions.
Local Offers and Benefits in Riverside, Hemet, Moreno Valley, and San Jacinto
For more benefits, take a look at some of the local offerings below:
For those in Riverside, the Riverside National Cemetery holds an annual Memorial Day Ceremony to honor our fallen heroes. This event is free and open to the public, making it an excellent opportunity for seniors to reflect and pay their respects. Additionally, the Riverside Art Museum hosts a Military Appreciation Day filled with engaging exhibits and activities that showcase the impact of military service on art and culture.
In Hemet, the annual Armed Forces Day Parade features marching bands, military vehicles, and much more in a festive celebration of our service members. After the parade, you may enjoy special discounts at local restaurants that honor veterans and active-duty military throughout the day.
The March Field Air Museum in Moreno Valley offers a Military Appreciation Day during May, providing free admission and interactive exhibits to educate visitors about the history of military aviation. Seniors may also explore local businesses offering discounts to veterans and active-duty military members in appreciation of their service.
San Jacinto residents should consider attending the San Jacinto Valley Memorial Day Observance, which includes guest speakers, a flag-raising ceremony, and more. Additionally, local veteran organizations often host events and programs celebrating Military Appreciation Month.
Additional Military Appreciation Month Events
Many community organizations and venues host concerts and events throughout the month in honor of Military Appreciation Month. Local sports franchises may also host Military Appreciation Nights, offering discounted or complimentary tickets for veterans and active-duty service members.
Tips for Seniors to Maximize Benefits
To ensure you're able to enjoy all the benefits and discounts available, always carry your military ID or proof of service while exploring these deals. Sharing information about these offers with fellow veterans and military families will help everyone make the most of this special month.
We Want to Help
Military Appreciation Month is a fantastic time for seniors to enjoy various discounts, events, and offers as a small token of gratitude for their service. Embrace the spirit of the month by taking advantage of these opportunities, and don't forget to share your experiences with friends and fellow veterans. 
If you're in the Riverside, Hemet, Moreno Valley, or San Jacinto area and need assistance with senior care services, contact Senior Helpers Riverside. We're here to support our veterans and their families.