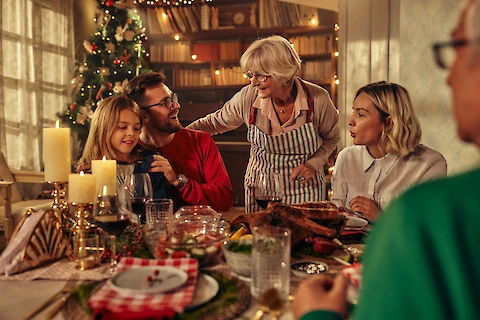 Big family get-togethers are the cornerstone of holiday celebrations. Palo Alto seniors are often the hosts or honored guests at large holiday gatherings, but it is also possible for them to get overwhelmed (or just very tired) with so much chaos and activity around them. Having many relatives means it's easy to forget a name or lose track of a lively conversation. How can you as a caring relative or home caregiver help to make these events special and fun for seniors but also less overwhelming?
Senior Helpers Palo Alto can share a few smart ways to make this year's holiday gathering a relaxing and uplifting time for family seniors.
Give Your Senior a Place to Be
The best way to make a lively Santa Clara holiday gathering also relaxing for a senior is to make their chair a landmark. Make sure there is one comfy chair where your senior can park themselves and become a hub of quiet conversation and a peaceful rock in the white-water rapids that are the family festivities.
Seniors can sit back and smile, enjoying family company, while younger relatives gather around for conversation or wander off to play games and run errands.
Greet Relatives by Name Every Time
Big families often leave seniors trying to remember everyone's name. Even without the risks of memory failure, some people were never great at names to begin with - and some seniors have a great many grandchildren.
Spend time with your senior by greeting each approaching family member by name each time they join the conversation. Simply mentioning the names of each person can help your senior to avoid worrying about keeping track of grandchildren or the occasional slip of memory.
Prepare the Family to Be Laid-Back
You can also talk to family members to help keep the stress level down around the attending senior or seniors. It's OK to warn small children not to be too rowdy when sitting on grandpa's lap, and to warn teenagers not to shout or roughhouse near great aunt Sally. A few gentle reminders to more boisterous adults can also keep conversations soft and pleasant when near the family's seniors.
Schedule Planned Events and Meals
Seniors want to be a part of family events, but that doesn't have to take 100% of the day. Seniors who need naps, quiet time, or to stick to a routine will appreciate planned family events and scheduled meals. This will allow them to plan ahead. If there's a family lunch and a game of horseshoes, seniors may plan their naps and snacks accordingly to be in high energy for the gathering. If there's a feast in the evening, they may save room and plan to stay up a little later to share long hours of coffee and dessert after.
In between these scheduled events, seniors will have time to unwind without feeling left out or overwhelmed.
Go for Quiet Walks and Long Errands
Active Menlo Park seniors may appreciate a chance for long quiet journeys. Taking a walk with one or two family members, or a long country-style errand to the store and back, can provide an opportunity for soft conversation and decompressing the stress of the lively holiday time. This is a great time for seniors and family introverts to get quality time together.
Establish Family Time and Quiet Time
It can also help to make sure your holiday celebrations have an ebb and flow between family time and quiet time. Depending on the layout of the hosting home, it may be possible to have a boisterous room and a relaxed room. Often, young children, pets, and exhausted adults will find themselves napping in a senior's designated quiet space. A senior with a napping baby is one of the happiest quiet moments in a Sunnyvale family holiday tradition.
Enjoy an Uplifting Family Holiday with Senior Helpers Palo Alto
Not every family has the perfect balance of helpers and those who need help. The seniors in your family can have a better time and with less burden on family members with the assistance of a Senior Helper. Our professional team in Palo Alto can ensure that your seniors enjoy the shared holiday as the honored host or guest. Contact us today to learn more.