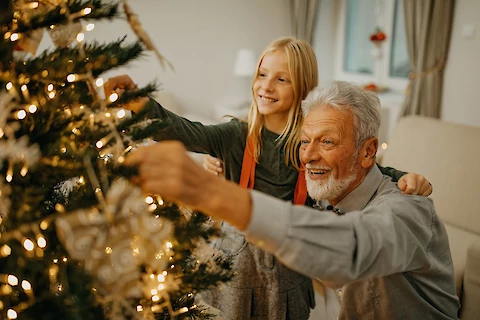 There's a magical feeling in the air that is only felt during the holidays. It's that time of year when holiday traditions and routines come to life as we spend time with our loved ones and create enduring memories. But for older adults with Alzheimer's, the holiday season may be difficult and alienating, especially if they cannot participate in customs and rituals. They often end up feeling dissatisfied and isolated from their loved ones as a result.
Whatever your holiday traditions and routines, embracing a few of them this year could make the holiday season particularly memorable for a senior you care for, especially if they have Alzheimer's.
The Benefits of Following Holiday Traditions and Creating Fun Holiday Routines
Seniors living with Alzheimer's disease occasionally forget what is expected and acceptable. Some holiday traditions and customs may make this year's holiday celebrations more enjoyable for you and the Alzheimer's patient you are caring for.
Here are some of the reasons why following holiday traditions and routines may be beneficial for seniors:
  1. Holiday Traditions and Routines Promote Stability and Order During the Holidays
The predictability of traditions helps create stable, orderly environments for seniors to thrive, which is very beneficial when you are looking to keep the holiday spirit alive when caring for a senior who is living with Alzheimer's.
  2. Traditions Give Seniors with Alzheimer's a Sense of Identity
Holiday traditions significantly shape a senior's identity and affect how they interpret and express themselves in their later years.
  3. Traditions Foster Stronger Family Ties
Holiday routines and traditions allow seniors with Alzheimer's and their caregivers to spend quality time together during which they can connect emotionally.
  4. Traditions Help Seniors Understand the Passage of Time
Seniors with Alzheimer's disease may mix up names, dates, and events; thus, they frequently need guidance on what to do during the holidays. Engaging in already-established holiday traditions ensures seniors are familiar with the upcoming festivities and keeps them focused.
  5. Traditions Connect Seniors to Their Past
When you ask seniors which holiday traditions they cherish the most, allowing them to participate makes them feel important and involved. Getting seniors involved in simple, nostalgic activities helps them connect to their past.
Dos and Don'ts of Holiday Activities
Families that follow holiday traditions and routines are more emotionally connected than those that don't. Consider using the following tips to make this holiday season one that the senior you're caring for will remember:
Dos
Let holiday guests know if there have been any changes in their behavior or memory of the senior you're caring for since their previous visit.
Make small handcrafted decorations for your senior's room and involve them.
Rewatching cherished films with an elderly relative suffering from Alzheimer's triggers fond memories.
Prepare quiet distractions to use in case an older adult with Alzheimer's disease becomes agitated or overstimulated.
Simplify routines and modify holiday traditions to accommodate the senior you're caring for.
Don'ts
Failing to make an effort to avoid situations that might frustrate or confuse a person with Alzheimer's.
Forgetting to prepare a senior about the holiday routine and the spike in visits during the season.
Following the family traditions without modifying and simplifying them.
While the holidays may feel different amid an Alzheimer's diagnosis, it's still possible for you and your loved one with Alzheimer's to enjoy this special season. If you need help caring for a senior with Alzheimer's, Senior Helpers Palo Alto can help. We serve Palo Alto, Santa Clara, Sunnyvale, and the Menlo Park areas in CA. Contact us today to learn more about how Senior Helpers Palo Alto can help.