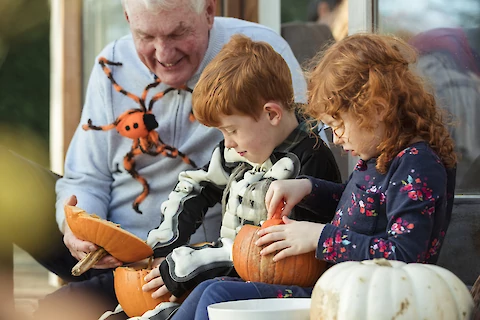 4 Fun Ideas for Seniors to Celebrate Halloween
The fall season comes with different holidays to look forward to, and Halloween is among the most popular. From spooky costumes and haunted houses to trick-or-treats and candies, there are a lot of opportunities for everyone to have fun during Halloween.
For those looking for ideas to make All Hallows' Eve fun and safe for seniors, the below tips can help.
Host Halloween-themed Parties
There is no better way of bringing Halloween to life than hosting a Halloween-themed party. Seniors can hold parties with family or friends and experience Halloween's magic. They can dress as their favorite Halloween characters, decorate their homes, and prepare Halloween foods. They can then relax on the couch and enjoy a great movie, maybe a childhood favorite that can stir their childhood memories. They can also take turns telling the silliest, strangest, and spookiest stories and have prizes for winners. This way they can relive their past experiences while making new ones.
Play Halloween Games
Spooky games of charades, trivia questions about monsters and all things Halloween, and Halloween-themed cards are a perfect way for seniors to celebrate. There can be prizes for the winners to encourage competitiveness and make the game fun. These memory games can be not only interesting and entertaining, but they can also help seniors improve their memory and overall mental health.
Attend a Local Halloween Event
There are endless local Halloween parties that are senior-friendly, which can add to the cheer of festivities for elders. Seniors in Palo Alto, Santa Clara, Sunnyvale, and Menlo Park can enjoy picking up pumpkins for carving and cooking and other organic gourds of different varieties at Webb Ranch's patch. They can also wander in a cone maze, stop by a haunted house, enjoy tractor hay rides and pet some animals like alpacas, goats, pigs, and bunnies at the petting zoo.
The Half Moon Bay Art & Pumpkin Festival is another great Halloween party to attend around the Bay area. The costume contest involves picking up pumpkins and enjoying pumpkin-infused treats, as well as elder-friendly walks and marathons.
Make Halloween Crafts
Staying indoors and making some Halloween crafts can be fun and engaging for elders. They can purchase acrylic paints in Halloween colors and varying size paint brushes and use them to paint pumpkins and map them out. They can embellish these pumpkins with feathers, a witch's hat, or googly eyes to make them scarier. They can also make spider hats using construction papers, scissors, glue, and staplers that they can hang in the house or outside for a spooky feel.
Get the Best Senior Care in Palo Alto
Besides needing help celebrating and enjoying Halloween, Senior Helpers in Palo Alto, Sunnyvale, Santa Clara, and Menlo Park can help take care of your senior loved one. We offer a comprehensive suite of programs and services to support aging-in-place for elders. We are friendly, reliable, and accommodating of people of all ages. Reach out to us today to get customized services for your elderly loved one.