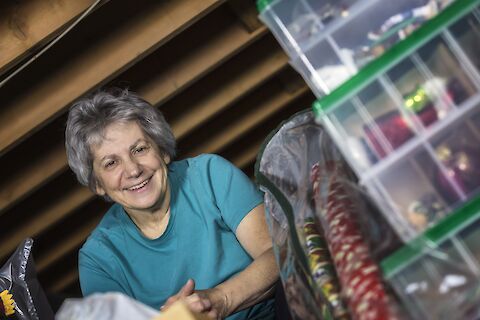 Decorations are a significant part of the holidays. The garlands, lights, knickknacks, and scented candles bring the magic of the holidays to life. However, taking down everything and storing it away after the festivities can be nerve-racking, especially for seniors.
Senior loved ones, particularly those with limited mobility, can have difficulty carrying boxes up and down a rickety ladder to get them to the attic for storage. Thankfully, there are alternative places where holiday decorations can be stored.
In the Closet
A closet is perfect for storing the holiday décor, especially the smaller sentimental decorations. Since the closet is inside the house, it eliminates the hassle of carrying boxes longer distances, such as the garage or the storage shed, as well as the risk of wintertime slips and falls. Additionally, it does not require climate control, unlike the basement and the attic.
When storing decorations in a closet, it is essential to use different-sized boxes that are easy to carry and that will fit neatly and safely inside. It is also necessary to label the boxes to know which item is where for easy accessibility.
Under the Bed
Another great storage alternative is under the bed. For seniors with a high bed frame, sliding boxes underneath the bed is convenient and hassle-free. Additionally, it protects decorations from falling or breaking, making it a safe storage space.
Using plastic containers with wheels can make it easy for seniors to put away and retrieve decorations from under the bed, as well as protect them from dust or household pets.
In the Basement
The basement is also perfect for storing holiday decorations, as it is spacious and can hold more items. However, for basement storage, seniors will want to use plastic containers with lids to protect the decorations from moisture and pests.
When storing decorations in the basement, seniors should use simple shelving units to hold and organize containers. This will also help minimize the space used.
In the Garage
A garage is another ideal place to store holiday decorations. The extra space can provide enough room to stack up boxes. Like the basement, seniors might need air-tight containers to keep moisture at bay.
Regardless of the storage location, seniors should use multiple smaller boxes or containers instead of one or two huge containers. Smaller boxes are easier to lift, carry, label, organize, and retrieve.
Get Help from Senior Helpers of West Los Angeles
Even with safer alternative storage, seniors are still prone to accidents when taking down the décor and lifting heavy boxes. In this case, seniors can ask for help from friends or grandkids to minimize the risk of accidents.
Additionally, they can enlist the help of a companion service to handle the decorations. Senior Helpers West Los Angeles provides personalized in-home senior care services to residents of West Los Angeles, Beverly Hills, Westwood, Century City, Hollywood, West Hollywood, and Hollywood Hills. We have 14 years of experience giving seniors top-notch care throughout Los Angeles. Schedule an in-house assessment today to determine whether this is the right service for you.