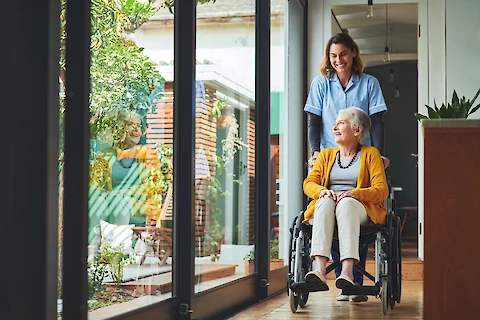 Making the decision to move into a retirement or assisted living facility is an important one. It not only affects you and your loved ones, but it may also have a significant impact on your finances. While having less money to worry about may sound enticing, educating yourself on all the hidden costs of such a big decision is essential. At Senior Helpers West Los Angeles, our in-home senior care company, we understand the complexities of this process and want to help. In this blog post, we'll explore the different types of costs associated with retirement and assisted living facilities, as well as provide examples of hidden expenses you may face when considering a move to West Los Angeles, Beverly Hills, Westwood, Century City, Hollywood, West Hollywood or Hollywood Hills.
Definition Of Retirement/Assisted Living Facility
Retirement or assisted living facilities are communities designed to provide housing, support, and social activities for seniors and those with disabilities. They range from small, independent living buildings to large residential and healthcare complexes. 
Types Of Costs
You must pay upfront costs before you move into an assisted living facility. These can include application fees, security deposits, and moving costs. 
Once you move in, you'll likely have to pay a monthly fee plus additional recreational activities, meals, or housekeeping services. You'll also have to pay all utilities. 
It's also essential to know about the unforeseen costs that may arise once you've moved in. These may include medical expenses, home maintenance costs, and transportation fees. 
Examples Of Hidden Costs 
Application Fees – These fees can range from $50 - $200 or more, depending on the facility.
Security Deposits – Many facilities require a security deposit, usually between one and two months of rent. 
Moving Costs – You may need to hire movers to help you pack and transport your belongings to the assisted living facility. 
Monthly Fees – These vary depending on the size of the unit and the services provided. 
Additional Services – Services like recreational activities, meals, and housekeeping may also include an additional fee. 
Utilities – You may be responsible for all utilities, including electricity, gas, water, and phone. 
Medical Expenses – Depending on the level of care you require, you may have to pay additional fees for medications, doctor visits, or specialized services. 
Home Maintenance Costs – You may need to pay for maintenance of your unit, such as plumbing or appliance repairs.
Transportation – If you don't have transportation, you may need to hire a car service. 
We Can Help
It's a major decision to move into a retirement or assisted living facility, and the hidden costs represent a  genuine concern. Knowing the correct information and understanding the expenses associated with moving, helps you make the best decision for your needs. At Senior Helpers of West Los Angeles, we understand and want to address your concerns. If you're considering a move for your senior loved one and live in West Los Angeles, Beverly Hills, Westwood, Century City, Hollywood, West Hollywood, or Hollywood Hills, contact us today to learn more about our in-home senior care services.