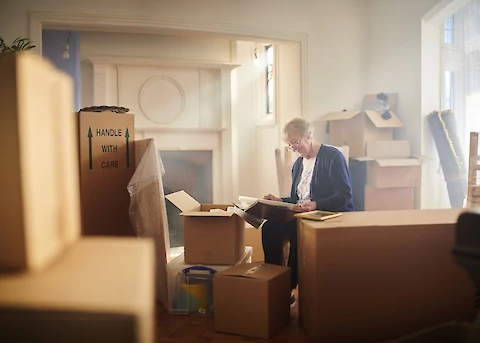 Are you a senior citizen experiencing mobility limitations and considering the idea of downsizing to a smaller, more accessible home? Choosing to downsize can offer numerous benefits, such as reduced home maintenance, better accessibility and more manageable living space. This article is written specifically for seniors like you, providing helpful insights and manageable steps to make the process of downsizing less intimidating. 
What To Look For in a Home While Downsizing
When searching for a new home, make a point to prioritize accessibility features that cater to your mobility needs. Look for homes with no-step entries, single-story living and wide doorways and hallways to facilitate easy movement within the house. Accessible bathrooms and kitchens are also essential, as they provide a safe and comfortable space for daily activities.
The location of your new home plays an essential role in maintaining an active and fulfilling lifestyle. Prioritize proximity to family and friends, ensuring that you can continue to enjoy quality time with your loved ones. Access to healthcare facilities and other essential services is also vital, as well as residing in a safe and walkable neighborhood.
Lastly, consider the size and layout of the home. Downsizing often implies moving into a smaller and more manageable space. Opt for open floor plans that allow easy navigation and ample storage for belongings.
Deciding What To Keep and What Not To Keep While Downsizing
Downsizing can be an emotional process, as it may involve letting go of some possessions. Assess your personal belongings based on necessity, functionality, sentimental value, and space limitations. Try to be practical and keep only what is truly essential or holds significant emotional value.
Organizing and decluttering your belongings is an excellent way to streamline the downsizing process. Categorize your items, and consider donating, selling, or discarding anything that you no longer need or want. Enlist help from family members, friends, or professional organizers to make this process more manageable and efficient.
Tips for Managing the Move
Create a moving timeline that keeps you on track and allows you to complete tasks on time. Hire a reliable moving company or enlist help from friends and family members to make the move as smooth as possible. Don't forget to pack and label your belongings carefully and systematically to avoid confusion and mess.
On a moving day, ensure that your new home is accessible and safe for you and your helpers. Don't hesitate to delegate tasks or supervise the move, so that everything goes according to plan. Once you're all moved in, take your time unpacking and settling in your new home.
Post-move adjustments may take some time, but they're essential. Personalize your new space and make it truly feel like home. Get to know your new neighbors and find local resources that can aid in your transition to a new lifestyle.
Other Helpful Insights
Be mindful of your finances when downsizing. Create a budget that accounts for moving expenses and any additional costs associated with your new home. Explore financial assistance programs that cater to seniors, as well.
Embrace the emotional aspects of downsizing, such as feelings of loss or change. Acknowledge these emotions and focus on the benefits of a smaller, more accessible home.
Lastly, seek support and resources from local senior centers, community organizations, and online forums. Connecting with others in similar situations can be a valuable source of encouragement and practical advice.
Senior Helpers Is By Your Side
Downsizing for seniors with mobility limitations is an essential step towards a more comfortable and enjoyable living environment. By taking the process one step at a time and seeking support when needed, you can make this transition smoother and more manageable.
If you or a loved one are considering downsizing in Beverly Hills, Westwood, Century City, Hollywood Hills, or Hollywood, contact us at Senior Helpers West Los Angeles for assistance and resources to make the transition as smooth as possible.