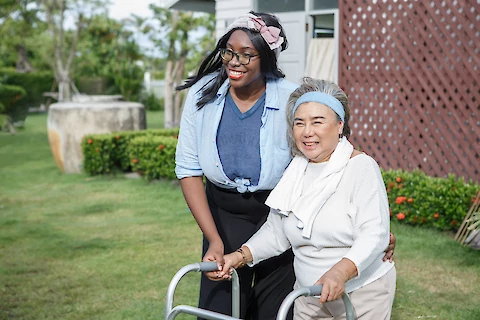 Having a senior relative diagnosed with Multiple Sclerosis (MS) can be a difficult and overwhelming experience. When he or she receives the diagnosis, you may find yourself full of questions about how to support your elderly family member. In this Senior Helpers Long Beach blog, we will cover everything from how to become an informed advocate for your senior to tips to help them cope. 
Educate Yourself About MS
It's important to take the time to educate yourself and become familiar with MS. Researching the disease will help you better understand how it affects your elderly relative, as well as any associated treatments and lifestyle adjustments they may need to make. 
Research MS
Learning as much as possible about MS will help you be an informed advocate for your elderly relative. That way, when timely medical decisions must be made or you visit a new specialist, you can speak from a place of strength and knowledge.     
Attend Support Groups
Joining a support group for people living with or caring for someone with MS can be immensely helpful in dealing with this challenging diagnosis. Not only do support groups offer emotional support for those affected, but they provide a perfect opportunity for you or your senior to connect with other people facing similar difficulties.
Talk To Your Relative's Doctor
Talking regularly to your senior loved one's doctor or healthcare provider is key when managing their condition effectively. Since he or she is likely the most knowledgeable person concerning their specific situation and overall circumstances, they can offer advice and resources catered to your senior loved one's diagnosis.
Support Your Elderly Relative Through Their Diagnosis
When caring for an elderly loved one with MS, it's important to be patient and understanding. Be sure to communicate any real-world changes that may have been the result of their diagnosis, such as getting help with house chores or day-to-day activities they once did alone.
Be Patient and Understanding
Caring for a senior loved one can be stressful at times, and this is further compounded when living with a chronic health condition like Multiple Sclerosis (MS). Making sure you provide patience, empathy, and encouragement during these trying times will go a long way in helping your elderly family member cope better. 
Offer Assistance with Daily Tasks
Many seniors cannot do all of the tasks they used to before being diagnosed with MS due to decreased mobility or physical limitations from their disease symptoms. Assist them by running their errands or connecting them with an in-home caregiver. This support goes far beyond just physical help; it can ease stress and anxiety on both sides.
Encourage Socialization
Help your senior find ways to stay connected socially, even if areas of activity are now limited. Connecting regularly over video calls or setting up safe activities in person can help reduce feelings of isolation. It will also keep them mentally stimulated, which is crucial for not just their physical health, but their mental health as well.
Learn More About How Our In-Home Caregivers Can Help
Receiving a diagnosis of Multiple Sclerosis (MS) can be extremely challenging. As a family caregiver, staying informed and communicating regularly with your senior's physician will ensure that you and your loved one are best prepared to handle their condition. In the event daily life becomes unmanageable, in-home care services are also an excellent option. If you or your senior are considering in-home care in Long Beach, Carson, Avalon, Signal Hill, or Compton, contact Senior Helpers Long Beach today. Learn more about how our compassionate caregivers can help.