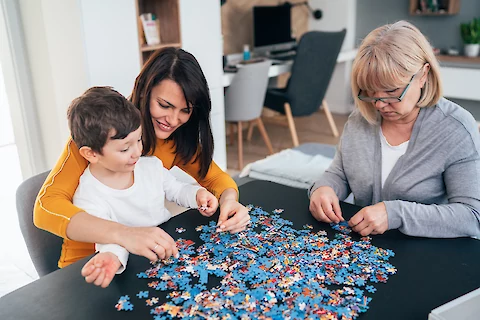 Are you stuck inside during the winter? You may not be able to go for that mindful walk, but you can keep your mind active with the fire of a puzzle. The week of November 21st, which also coincides with Thanksgiving week, is National Game and Puzzle Week! This is the time dedicated to the fascinating activity of puzzle-solving.
Why Puzzles?
Working on puzzles provides significant benefits for your brain health, particularly as you get older. An afternoon crossword puzzle or jigsaw puzzle keeps the brain in shape and reduces stress.
Puzzles and brainteasers aid in the development of critical thinking skills by improving memory, increasing intellect, and refining your analytical methods—getting you to reason with attention to detail, dissecting, and problem-solving.
Now that you understand the importance of puzzles for mental health, be occupied with one of these difficult jigsaw puzzles.
Mirrorkal Brainteaser Puzzle's mind-bending images make it an equally tough puzzle experience. The collection, created by puzzle creator Ivan Moscovich after meeting Escher in 1964, includes 5 distinct 3D puzzles inspired by the artist's sketches. The product description indicates that the puzzle is made attractively with slanted mirrors. The puzzle is a delight to work on and to show on your coffee table for your guests to enjoy!
The pencil collage puzzle by White Mountain Puzzles measures 24 inches by 30 inches and features an image of a plethora of different pencils in all colors, sizes, and conditions. White Mountain claims that Maureen Rupprecht built this extraordinary collection of advertisement pencils by physically gluing scores of pencils into a board. What an undertaking!
The Infinite Galaxy Puzzling provides the best puzzle experience. It is a puzzle that you will never be able to complete. It has no defined shape or borders, and the parts are double-sided. So, that users can flip and reorganize them in any arrangement. It features a NASA depiction of the Milky Way's galactic center. Topologically, this puzzle corresponds to a Klein bottle, an inconceivable 3D form with a mathematically indistinct inside and outside, according to the game's authors. There are presently two variants of the puzzle you could work on if you get weary of the original puzzle's unlimited alternatives and seek another infinite challenge.
The 3D puzzles by Bepuzzled offer thought-provoking entertainment in 42 various designs. We believe this crystalline Saturn puzzle is truly out of this world (many Mental Floss users seem to concur). However, Bepuzzled also has puzzles in the shape of animals, birds, food, automobiles, and other everyday objects if constructing a cluster of purple grapes or a majestic snowy owl is more your speed.
With The Joy of Puzzles, which is based on one of Bob Ross's classic landscape paintings, you may put together some cheery little trees. The 500-part puzzle will allow you to unwind without having to get out the paintbrushes. Just try to stay as cool as Ross if you come upon any pleasant little mishaps along the road.
Final Word
Puzzles are difficult, and we could spend our free time during the day completing a difficult puzzle. The puzzle may be a fun game for both children and adults.
Do you reside in Long Beach, Carson, Avalon, Signal Hill, or Compton and require aid in caring for your elderly relatives? Senior Helpers Long Beach, a leading in-home elder care organization, offers everything from specialized care for seniors with chronic conditions, such as Alzheimer's disease and Parkinson's disease, to companion services for your loved ones who may require assistance with everyday tasks. Contact Senior Helpers Long Beach today to learn more about our in-home care services.