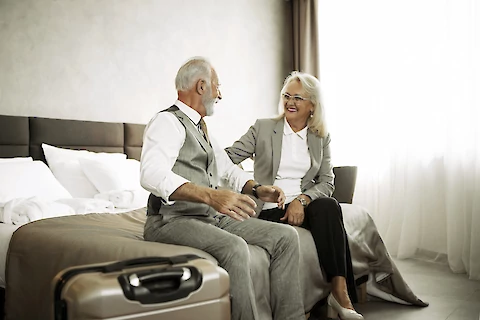 How to Prepare Your Home's Guest Room for Relatives With Dementia
When hosting holiday gatherings, it is often preferable to have elderly parents or other relatives stay overnight in the guest room. That way, those with mobility issues or dementia can participate in the festivities without the worry associated with nighttime travel or arriving on time.
Unfortunately, unfamiliar surroundings can lead to confusion and accidents. This guide will aid in making the spare room as optimal as possible for guests with dementia to ensure the holidays go smoothly and everyone has fun.
Remove Clutter
Piles of books, clothing or other items left on the floor can cause tripping. Clear the bedroom of clutter and keep walkways free of obstacles. Consider simplifying or un-decorating the guest room by removing mirrors or excessive wall hangings. These can make it difficult to process what is real and what is a painting or a reflection.
Install Motion Sensor Lighting and Night Lights
Finding one's way around in the dark in someone else's home can be a challenge for anyone. Motion sensor lighting in bathrooms and hallways helps to make it easier to get around without having to fumble around in the dark looking for switches. Nightlights strategically located around the bedroom and in the bathroom help with nighttime orientation. A readily available flashlight placed on the nightstand is also a great addition, in case the power goes out.
Outfit the Bed With Railings
Rolling around during the night or trying to exit an unfamiliar bed can lead to falls. Bed railings are an inexpensive and simple-to-install solution. When not in use, they can easily be stored in a closet or drawer.
Avoid Using Area Rugs
Area rugs are stumbling hazards. To prevent an overnight visitor with dementia from slipping or tripping on one, avoid using them altogether in the guest room. If you must use throw rugs, tape them securely to the floor with heavy-duty, double-sided tape.
Make Space for Luggage
A guest with dementia must have easy access to their luggage. An antique trunk or bench located at the foot of the bed is an excellent place for laying, and opening, a suitcase.
Place Towels and Extra Toiletries in the Bedroom
If visitors must use a bathroom not connected to the bedroom, or share one with family members, it's a good idea to place a set of towels in the bedroom. This way, they won't have to wonder which towels they should use when they step out of the shower. Extra toiletries like toothpaste, toothbrushes, and soap provide simplicity and prevent awkward moments.  
Leave Out Bottles of Water and a Snack
When a guest with dementia needs a drink of water or a light snack before bed, in the middle of the night, or the early morning,  getting to the kitchen or asking for it could be a problem. A pitcher or bottles of water and packaged crackers or granola bars help to prevent embarrassment and inconvenience.
For seniors needing assistance with daily activities in Long Beach, Avalon, Carson, Compton, or Signal Hill, California, Senior Helpers Long Beach provides in-home senior care. Our comprehensive suite of services and programs supports healthy and safe aging in place. Contact Senior Helpers Long Beach today for an assessment or to learn more about how we can help your loved ones.