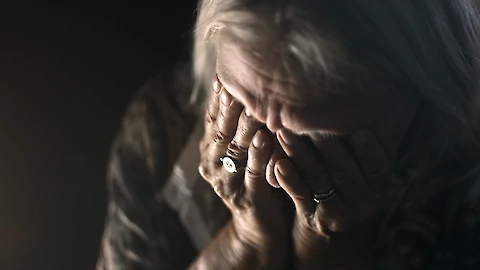 Seasonal depression, also called Seasonal Affective Disorder (SAD), is a mental health condition attributed to depression related to seasonal changes.
The condition happens around the same time each year in winter. Affected people feel different than they were in summer, characterized mainly by hopelessness and loss of interest in people.
In most cases, SAD can affect a person's sleep, eating habits, mood, and energy, affecting core aspects of their life. Prolonged SAD can increase the risk of developing Alzheimer's.
Alzheimer's is a progressive neurological medical condition that impairs memory and other cognitive abilities.
Research shows that depression affects a considerable number of senior citizens, and this can affect their cognitive abilities. Luckily, the treatment of AD is linked to better functional status.
This then begs the question, can SAD increase or worsen Alzheimer's? Our answer to this is yes. But first, let's take a close look at the telltale signs and symptoms of SAD.
Signs of Seasonal Depression
When the temperatures go down and face-to-face interactions dwindle, some people can experience bouts of melancholy or excessive tiredness—which isn't something to worry about immediately.
However, if the symptoms sprout up around the same time each year, it's imperative to seek the professional treatment we provide at Senior Helpers. This ensures we can restore a person's quality of life to best prepare for other seasons.
Signs and Symptoms
Experience long periods of insomnia or feel sleepy more frequently than usual.
Unexplained fatigue
Change in appetite where a person experiences cravings for sugary foods
Sudden weight gain
Mood changes, such as feeling sad, guilty, hopeless, and irritability
The severity of SAD symptoms varies from one person to another and often depends on genetic vulnerability and where a person lives.
To receive a clinical diagnosis of these symptoms, a person needs to have experienced such symptoms for two or more consecutive years. Nonetheless, affected persons are advised to seek help regardless of timing or symptoms persistence.
Risk Factors
While SAD affects people who live south of the equator or the far north, it's worth noting that it can affect anyone. Here are other risk factors to be wary of:
Gender: Women are more likely to experience severe symptoms of SAD when compared to men.
Age: Even though SAD can be diagnosed early, between 18-30 years, a person is more likely to experience it as they age.
Family history: If a close relative has suffered SAD, this puts you at a higher risk.
Treatment Options
At Senior Helpers Long Beach, we focus on in-home care for senior citizens across Carson, Avalon, Signal Hill, and Compton, and Alzheimer's is one of our many specialties.
The progressive nature of AD requires careful and professional handling, and this is where our caregivers come in. We are a leading expert in Alzheimer's, and you can trust us to breathe life back into your elderly loved one's life.
If you or a loved one are looking for professional caregiver services, Senior Helpers Long Beach offers a comprehensive suite of programs and services spread throughout Carson, Avalon, Signal Hill, and Compton.
Contact us today or visit our Long Beach office to learn about our in-home care services. Over to you!