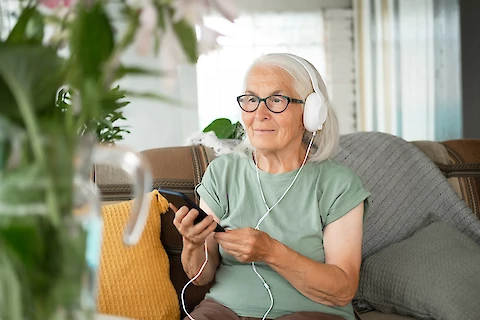 It is no wonder that audiobooks have been soaring in popularity in recent years. They introduce a new dimension to the art of storytelling. Lifelong learning and entertainment are particularly important for seniors. It only makes sense then to explore the advantages of this growing trend. Audiobooks offer a unique blend of convenience and accessibility, making them an appealing choice for seniors. This Senior Helpers blog post discusses the wonderful world of audiobooks and how they can enhance your experiences and offer comfort and entertainment in your senior years. 
Advantages of Audiobooks for Seniors
Audiobooks come with an array of perks, most notably their convenience. They enable seniors to enjoy a good book, regardless of time or place. All you need is a listening device. You can immerse yourself in a captivating story whether you are on the bus, cooking dinner, or taking a walk. This kind of freedom is a game-changer, especially for seniors who may experience fatigue or discomfort when sitting for extended periods to read. 
Audiobooks also provide an accessible alternative, essentially making every book a large-print edition. Audiobooks can be a blessing for those with visual impairments or eye strain. They are also ideal for seniors with physical limitations that make holding a book or turning pages challenging. Simply put, audiobooks ensure that physical difficulties do not hinder the pleasures of a good narrative.
Comparison With Traditional Reading
Traditional reading has its charm. However, it can present unique challenges for seniors. Small print, heavy books, or insufficient lighting can make an otherwise enjoyable activity difficult. Audiobooks are a great alternative as they eliminate these issues. They allow seniors to delve into riveting tales, acquire new knowledge, and stimulate their minds without physical strain. Audiobooks aren't replacing traditional reading, but they provide an excellent substitute that easily caters to the needs and comfort of seniors.
Platforms for Audiobooks
As the popularity of audiobooks has grown, so has the number of platforms offering these services. Renowned digital platforms, including Audible, Google Play Books, and LibriVox, boast vast collections of audiobooks spanning numerous genres. For instance, Audible, an Amazon company, offers a one-month free trial and has thousands of titles to choose from. These platforms are user-friendly and designed to make the process of finding and listening to your next great read effortless. Don't overlook your local library as a resource for finding audiobooks. Many offer free downloads using your library card.
Senior Helpers Can Help With Daily Tasks
Senior Helpers offers quality, in-home senior care services designed to meet the needs of seniors and their families in the greater Long Beach community. If you live in the Long Beach, Carson, Avalon, or Signal Hill areas, don't hesitate to contact us anytime at Senior Helpers Long Beach. We are dedicated to making your senior years enjoyable and comfortable. And remember, the magic of storytelling isn't confined to the pages of a book. The world of audiobooks lets the narratives unfold in a whole new way.