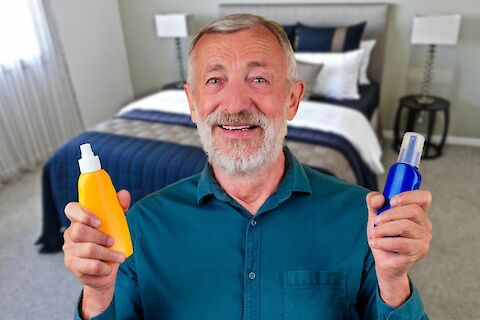 Are you an arthritic senior who's finding it difficult to apply traditional sunscreen lotions? Well, you're not alone! Many seniors struggle with using sunscreen due to limited mobility or challenges with handling the bottle. With or without these obstacles, sun protection is still absolutely critical, especially in sunny Southern California. That's why we've put together this handy guide. It's teeming with easy-to-use sunscreen lotion alternatives designed specifically for seniors like you. So, keep reading and discover how to protect your skin from the sun's harmful rays, arthritis or no arthritis!
1. Sunscreen Spray
One of the excellent sunscreen lotion alternatives is the sunscreen spray. It has all the protective benefits of regular sunscreen lotion, only it's in spray form. Instead of struggling with bottle caps and rubbing lotion into your skin, you can quickly spray it on, often with just one hand. It's easy, it's convenient, and it will make it more likely that you'll keep up with proper application. Just make sure you spray evenly and don't miss any spots!
2. UV-Protective Clothing
UV-protective clothing is designed to block harmful UV rays from reaching your skin. You can find everything from hats to shirts to pants in UV-protective materials. The best part? No need for reapplication! One note of caution: UV-protective clothing should not replace sunscreen completely but supplement it, especially during the peak sun hours.
3. Sunscreen Wipes
Sunscreen wipes are another fantastic sunscreen lotion alternative. Think of these as moist towelettes infused with sunscreen. They're easy to apply and perfect for seniors who find traditional sunscreen inconvenient. Plus, they're portable and excellent for touch-ups throughout the day. Remember to dispose of used wipes properly to protect the environment.
4. Sunscreen Sticks
Imagine your sunscreen in the form of an oversized lip balm tube. That's what sunscreen sticks are. Great for seniors navigating arthritis, sunscreen sticks are handy and easy to apply, especially on the face. Simply swipe it on your skin, and you're good to go without the greasy hands. Just like any other form of sunscreen lotion alternatives, it requires reapplication, so be sure to keep it within reach.
5. Sun Protective Accessories
Finally, let's not forget the power of sun-protective accessories. Wide-brimmed hats, sunglasses with 100% UV protection, and even UV-protective umbrellas can be game changers. They not only offer extra sun protection, but they're also stylish.
Senior Helpers Has Your Back
Sun protection for seniors, especially those with arthritis, doesn't have to be a hassle. With these sunscreen lotion alternatives, you have few barriers to protecting your skin from the sun's harmful rays!
Skincare is just one important way seniors can look after themselves this summer. If you need help with day-to-day tasks, from self-care (and applying sunscreen lotion alternatives to those hard-to-reach places) to friendly companionship, Senior Helpers serves the Long Beach, Carson, Avalon, Signal Hill, and Compton areas. Contact us at Senior Helpers Long Beach today. Our mission is to empower seniors to live their lives to the fullest.