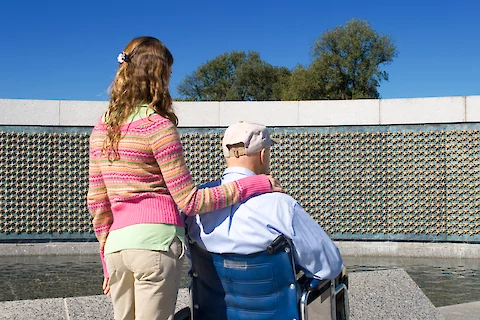 Memorial Day is an important time for many people to honor and remember those who gave their lives for our country. Seniors have a special opportunity to contribute to Memorial Day events and tributes in their communities. Whether you've served in the military or just want to show your support, your participation can impact your community. 
Organize a Parade
One way to participate in Memorial Day is by planning a parade in your community. Work with local veterans groups and community organizations to organize a festive event that brings people together to remember fallen heroes. After gathering a group of volunteers, choose a judging panel, plan the parade route, you'll need to obtain the necessary permits, and make sure everything runs smoothly.
Help With a Local Ceremony
Talk to city officials or veteran organizations to offer your help with organizing or running the event. You could help with setup, registration, or other logistics. Encourage friends and neighbors to attend the ceremony and support those who have served.
Send Care Packages
To support active military members, you can organize a care package drive for those currently serving and their families. Partner with a local organization or military base to find out what items are needed, then collect donations from your community. Once you have enough items, host a packing party to assemble the care packages and prepare them for shipping.
Pitch in With Veterans Services
Volunteering at a local VA hospital or veterans service organization or providing transportation for veterans attending Memorial Day events can also make a big difference. You might help military families with home repairs or yard work to show your appreciation for their service.
Organize a Temporary Community Memorial
You can create a Memorial Day display in your community by collecting photos, stories, and memorabilia from local military families. Work with a public space like a library or community center to host the exhibit.
Organize Cemetery Events
Planning a flag-planting or wreath-laying ceremony at a cemetery is another way to honor fallen service members. Buy small American flags or wreaths, work with cemetery staff and veterans groups, and invite the community to join in this touching event.
Host a Memorial Day Potluck
It is a great way to help military veterans and their families celebrate Memorial Day. Plan a menu with traditional Memorial Day dishes and options representing different military branches. Provide entertainment, like live music or games, to create a fun and celebratory atmosphere.
We Can Help You Do This!
There are many ways for seniors to make a difference in their communities on Memorial Day. Whether you volunteer at an event, create a tribute, or help a military family, your actions will create lasting memories and honor the sacrifices of service members and their families.
If you or a loved one need help with daily activities or companionship, Senior Helpers Long Beach is available to assist. Our caring caregiver team supports seniors in Long Beach, Carson, Avalon, Signal Hill, and Compton. Contact us today to learn more about our services and find out how we can help you live a more fulfilling life as an independent senior and an active member of your community.