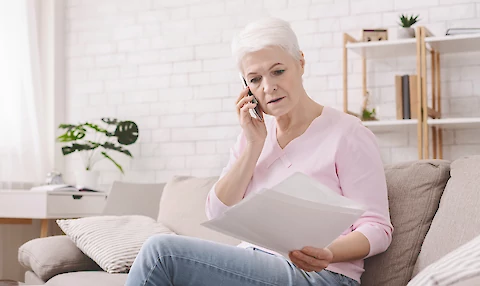 As our senior relatives age, it becomes increasingly important to protect them from potential threats, and one area that is often overlooked is tax scams. Unfortunately, these scams have become all too common, and seniors are often the primary target due to their limited knowledge of technology and their trusting nature.
In this blog post from Senior Helpers Long Beach, we will discuss ways to help protect your senior relatives from tax scams without infringing on their autonomy. By providing education, resources, and a good support system, you can help your loved ones navigate tax season safely and with confidence.
Start With Education
Educating seniors about common tax scams is a crucial first step in ensuring their safety. There are various resources available to help seniors learn about potential tax scams, such as the IRS website and the AARP Fraud Watch Network. 
Additionally, keep an eye out for local workshops or seminars catered explicitly to senior citizens on this topic. Taking the time to discuss common tax schemes with your senior relatives can go a long way in raising their awareness and safeguarding them from potential threats.
Common Tax Scams
Some common tax schemes that target seniors include phishing emails, which attempt to trick individuals into providing sensitive information; phone scams, in which criminals pose as IRS agents and demand immediate payment or personal information; fraudulent tax preparers, who claim to help seniors with their taxes but ultimately steal their money or identity; and fake charities, where scammers persuade seniors to donate to non-existent organizations. Talk to seniors about how to verify any suspicious information and remind them that it's always okay to ask for help before making any decisions.
Establish a Strong Support System
Establishing a solid support system can help seniors feel more comfortable discussing their taxes and potential scams. Encourage your senior relatives to confide in trusted family members or friends if they receive any suspicious communication or need assistance understanding their tax situation. Setting up a system for reporting potential scams to family members, caregivers, or authorities can also be highly beneficial. For added protection, consider discussing the option of using a third-party service to handle their taxes. This can alleviate the burden on seniors and minimize the likelihood of them falling victim to fraud.
Check-in With Your Senior Relative
During tax season, make it a point to check in regularly with your senior relatives. This not only provides them with an additional sense of security but also allows you to monitor their financial accounts for any unusual or suspicious activity. Encourage them to report any questionable phone calls or emails they may receive. This open line of communication can serve as a helpful early warning sign of potential scams.
Get Premium Senior Care Services From Senior Helpers
By providing education, resources, and a robust support system, you can help them navigate tax season safely and confidently. For those living in Long Beach, Carson, Avalon, Signal Hill, and Compton, consider using Senior Helpers Long Beach for assistance with protecting your senior loved ones from tax scams. Our compassionate and knowledgeable caregiving team is here to help safeguard your relatives while respecting their autonomy and independence. Contact us to learn more!