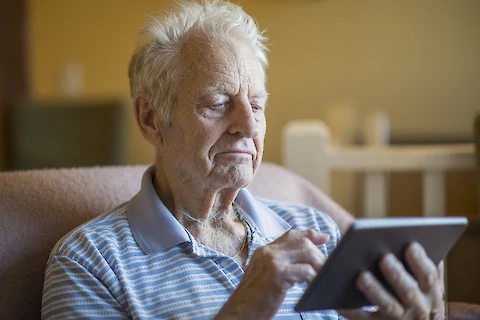 Understanding Common Scams Targeted Toward Senior Citizens: Protecting Our Elderly Loved Ones All Year Round
Scammers prey on seniors because they know that older people may be more trusting or less familiar with the technology. Caregivers for elderly loved ones may want to take extra steps to help protect the seniors in their lives, including ensuring that they are aware of common scams and have the resources they need to protect themselves from fraud. 
Common Scams Targeted Toward Senior Citizens
New scams arise regularly. In 2021 alone, more than 92,300 victims faced more than $1.7 billion in fraudulent losses. Knowing how to identify common scams can help seniors stay safer. 
1. Identity Theft & Phishing Scams
Identity theft occurs when someone obtains and uses another person's personal information, such as a Social Security number or credit card number, to commit fraud. This can be done through phishing scams where a scammer pretends to be from a reputable company to get the victim's personal information. 
2. Medicare/Medicaid Fraud
Scammers may try to get your elderly loved one's Medicare or Medicaid numbers to bill for services that were never provided or goods that were never received. They may offer free medical equipment in exchange for their Medicare number. 
3. Investment Fraud
Seniors are often particularly vulnerable to investment fraud because they may lack the tools needed to investigate a new investment opportunity. Investment fraud occurs when an individual is convinced by someone posing as a financial advisor into making risky investments with the promise of high returns which often turn out not to materialize at all and they are left without their hard-earned savings. 
4. Home Repair/Improvement Scams
Home repair scams typically involve scammers offering unnecessary repairs on homes or claiming there is an urgent need for repairs that must take place immediately before further damage can occur. The scammer then demands payment upfront and does not deliver on the promised services. These criminals frequently use high-pressure sales tactics and overly tight deadlines to pressure seniors into making a fast decision about repairs, rather than taking the time to talk to a loved one. 
How to Protect Your Elderly Loved Ones
Protecting our elderly loved ones from scams requires education, vigilance, and access to reliable sources of information. 
1. Educate Your Elderly Loved Ones
Make sure your elderly loved ones understand the different types of scams and how to recognize the warning signs. It can also be helpful to share relevant articles concerning new kinds of scam tactics being used so they are always aware of any changes in trends. 
2. Monitor Their Finances
Keeping tabs on your family member's bank accounts will help you detect any suspicious activity earlier rather than later. Setting up automatic alerts whenever unusual transactions are occurring can be a good idea. 
3. Act Fast if Fraud Occurs
If you believe that fraud has occurred for any reason, act fast to protect your senior loved one. If necessary, call the police to report fraudulent activity. 
Provide In-Home Care for Senior Loved Ones
Often, having a reputable, trustworthy caregiver in the home can provide seniors with the support they need to avoid common scams. For seniors in the Contra Costa, Oakland, Moraga, Concord, Walnut Creek, Moraga, Orinda, Lafayette, and San Ramon areas, Senior Helpers Contra Costa can provide a variety of in-home care services. Contact Senior Helpers Contra Costa today to learn more about what our companionship or in-home care options can provide for your senior loved one.