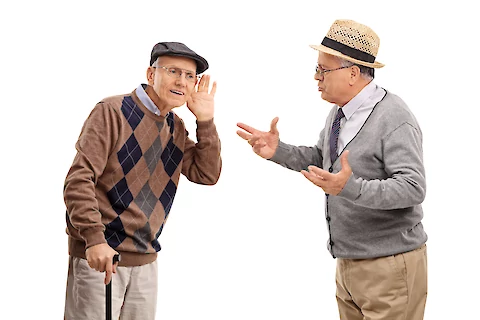 How to Deal With Hearing Impairment as an Aging Person
Do you experience difficulty hearing? You're not alone! Hearing impairment is an increasingly common issue for seniors. But you don't have to miss out on conversations with your loved one, important plot twists in your favorite TV shows, or your favorite radio tunes. The in-home care experts at Senior Helpers Contra Costa have a few tips to keep hearing impairment from affecting your ability to live your best life. 
How Common Is Hearing Impairment in Seniors?
It's estimated that one in three senior citizens experience some level of hearing loss. The effects can range from mild difficulty hearing soft sounds — which may be difficult to diagnose if not checked by a specialist — all the way through to complete deafness. In many cases, hearing impairment is undiagnosed or untreated. 
4 Tips for Living With Hearing Impairment
1. Learn How to Read Lips
This involves not only identifying a pattern in lips movement but also understanding the physical cues of facial expressions and learning what each means. It can take a little time to learn this skill, so practice makes perfect! 
2. Try Assistive Listening Devices
Speakers, headphones, and other assistive listening devices amplify sound when you're wearing them. It's especially helpful when you want to hear something specific against a lot of background noise, such as a busy restaurant.
3. Use Hearing Aids
There are many different kinds of hearing aids available, from behind-the-ear (BTE) to completely in-the-ear models. With so many different options, you may want to talk to a specialist about what kinds of features and functions fit your needs best. 
4. Discuss Communication Strategies and How Your Loved One Can Help You
Finally, it's important to talk with your friends, family, and loved ones about how they can support you. For example, you may want them to turn down the television when they're asking you a question, or face you when they're speaking so you can read their lips. Likewise, don't hesitate to ask how they would like you to communicate with them 
When to See a Doctor for a Hearing Assessment 
Hearing impairment is a common condition and requires a diagnosis and regular check-ups to ensure that it does not become more difficult. Get a professional hearing assessment from an audiologist, who will be able to advise the best options for managing hearing impairment so you can enjoy the best quality of life. 
Treatment for Hearing Loss 
Advanced treatments for hearing loss are now available and can make a big difference for anyone experiencing various forms of hearing impairment. In some cases, cochlear implants may be recommended. This technology is highly reliable and successful. Other options include medical devices such as digital aids, or a combination of medication and therapy which can both help to successfully manage your hearing loss and improve your ability to hear over time. 
Senior Helpers Contra Costa Offers Personalized In-Home Care
Senior Helpers Contra Costa's in-home care offers personalized services tailored to your specific needs. Live the life you want with the support of our licensed and trained professional caregivers who specialize in a variety of areas, including helping seniors experiencing hearing impairment. Contact Senior Helpers Contra Costa today to learn more about how we can help seniors throughout Contra Costa, Oakland, Moraga, Concord, Walnut Creek, Orinda, Lafayette, and San Ramon, CA.