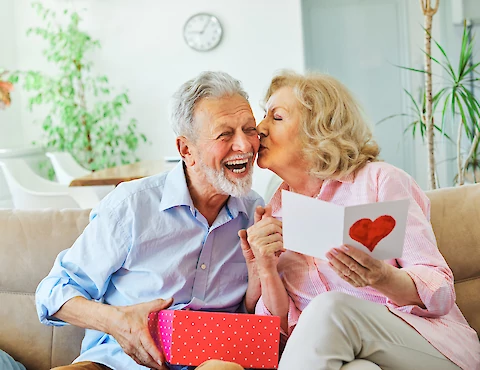 7 Budget-Friendly Activities For Seniors During Valentine's Day
Valentine's Day is the perfect opportunity to spend quality time with those you care most about. Unfortunately, the expenses can sometimes put an extra strain on your budget. In fact, retailers forecast that people will spend more on Valentine's Day this year than they have in nearly a decade. Fortunately, there are plenty of ways to celebrate love without breaking the bank! In this Valentine's Day guide, the team at Senior Helpers Contra Costa explores budget-friendly Valentine's Day activities for seniors in Contra Costa, Oakland, Moraga, Concord, Walnut Creek, Orinda, Lafayette, and San Ramon, CA. 
1. Play A Board Game For Two At Home
Board games provide hours of entertainment for two players and are a great way to spend quality time with your loved one. Check the game collection you already have to find something that you both can enjoy, such as checkers, chess, or a card game. If you don't have any two-player board games at home, try borrowing a game from a library in your area to add an element of surprise!
2. Visit A Park, Museum, Or Local Attraction
Many museums, galleries, and other local attractions in Contra Costa County host special Valentine's Day events that are free or low-cost. The list of activities can range from live music and art demonstrations to guided tours and interactive educational opportunities. Even if there are no events specifically for Valentine's Day, spending time together at a museum or other local attractions is a great way to play tourist.
3. Make Each Other Handmade Cards
Simple and heartfelt, handmade Valentine's Day cards are always a nice gesture that doesn't cost a dime. Cut up some magazine images, search Pinterest for ideas, or draw something special that reminds the other person of your shared love. Remember, it's the thought that counts, so don't be afraid to get creative and sentimental.
4. Make Each Other Handmade Gifts From Household Items
Making gifts for each other with items you already have around the house is always a budget-friendly and meaningful option. This can include making decorations with paper, creating homemade jewelry out of small beads, or even repurposing an old trinket or item into something new and special tailored to your loved one's taste.
5. Create Your Own Romantic Spa Day At Home Using Low-Cost Ingredients In Your Pantry
Create the perfect relaxing atmosphere in your own home with a romantic spa day. Save money by using items already in your pantry or fridge. For example, you could whip together facial masks out of Greek yogurt and honey; create a romantic and aromatic bubble bath using coconut oil and dried culinary herbs, such as lavender or rosemary; or use sea salt and coffee grounds for a luxurious body scrub. Don't forget to set a spa-like mood by lighting candles and playing soothing music!
6. Use Online Coupon Services Or Deal Websites To Save Money At Romantic Restaurants And Local Businesses
Take advantage of online coupon services and deals websites to save a few extra dollars as you plan a day of fun activities or a romantic dinner out. Many restaurants and businesses offer discounts or free giveaways exclusively on these sites. Example sites include Groupon, Contra Costa Coupons, and Contra Costa Live.
7. Host A Movie Night With Friends
Invite a few close friends to come over for a movie night. Choose movies that you both love or have recently purchased but haven't gotten to enjoy yet. Turn your home into a cozy theater with homemade popcorn, fun treats, and celebratory drinks for the special day.
Senior Helpers Contra Costa Offers Personalized In-Home Care
Senior Helpers Contra Costa's companion care can help with light housekeeping, grocery shopping, meal preparation, and the other errands you need to do to make this a Valentine's Day to remember. We also provide an array of additional services, including chronic disease care, to help your elderly loved one enjoy a vibrant, healthy life. Contact Senior Helpers Contra Costa today to learn more about the top-notch in-home care we provide to seniors in Contra Costa, Oakland, Moraga, Concord, Walnut Creek, Orinda, Lafayette, and San Ramon, CA.