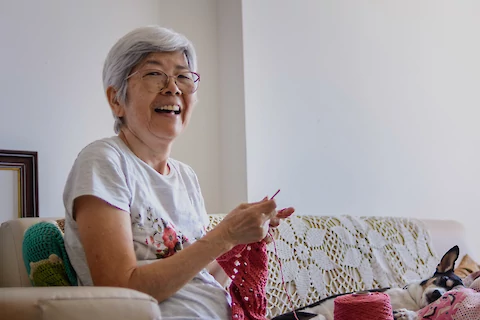 As seniors embark on the enriching journey of learning new skills, you should ensure they're safely pursuing these hobbies. New activities, wonderful for engagement and cognitive health, can pose certain risks like muscle strain or repetitive stress injuries. With safety a top priority, adult children and caregivers require handy information regarding the essential safety tools for seniors. The aim is to ensure you are well-equipped to help your loved one enjoy their new hobby while minimizing risks. Some safety tools are crucial for an enjoyable and worry-free environment for seniors. Here are some essential tools that can make a significant difference.
Ergonomic Tools
Ergonomic tools are a staple for seniors embarking on new hobbies. These help reduce discomfort and prevent muscle strain or repetitive stress injuries. These injuries can occur from repetitive motions. From gardening tools with thick handles for easy grip to knitting needles designed to reduce wrist strain, there's an ergonomic tool for virtually every hobby. 
Non-Slip Mats
Non-slip mats are another simple yet effective safety tool. Falls can be a significant concern when seniors move around, particularly when focusing on a new task. Strategically placing non-slip mats on slippery surfaces, such as in the kitchen, bathroom, or hobby area, can reduce the risk of falls.
Adequate Lighting
Is your senior loved one's living space well-lit? Providing adequate lighting can prevent accidents that can occur due to poor visibility. Consider installing brighter bulbs, adding additional lamps, or using task lighting to illuminate specific work areas.
First Aid Kit
A well-stocked first aid kit is essential in every home, even more so when seniors pick up new hobbies. Be sure it contains items that treat minor injuries, like cuts and burns. Plus, consider conditions that stem from the physical strain of new activities. Including heat patches for muscle pain, for example, might be ideal.
Assistive Devices
Next on our list are assistive devices. These can help seniors maintain independence while ensuring safety during their new hobby. From long-handled grabbers for reaching materials to adjustable chairs for comfortable sitting, these devices provide essential support.
Personal Emergency Response System
Lastly, consider a Personal Emergency Response System (PERS). During a fall or other emergency, your senior loved one can simply press a button to call for help. This innovative tool offers an extra line of defense that reassures that help can be quickly accessed when necessary.
Seek Advice From Senior Helpers Contra Costa
While encouraging seniors to learn new skills is an excellent avenue for enhancing their quality of life, safety remains a primary concern. We hope these safety tools can help foster an environment where seniors can thrive in their new hobbies while family members and caregivers can rest assured knowing their loved ones are safe.
We at Senior Helpers Contra Costa are committed to supporting seniors and their families in our local community. If you live in Contra Costa, Moraga, Oakland, Walnut Creek, Orinda, or elsewhere nearby, we invite you to contact us. We are here to provide further advice, assistance, and resources to ensure your senior loved ones enjoy their golden years in safety and comfort. Contact us today.