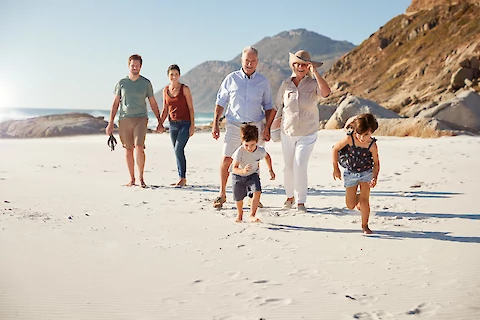 Planning a family vacation is a fun and exciting experience, but accommodating both children and senior relatives can become challenging. Ensuring you meet everyone's needs and preferences can seem daunting, but fear not! In this guide, we'll share some tips on how to choose family vacation destinations. Spots that are suitable for all ages and abilities and accommodate the health needs and mobility restrictions of seniors. So prepare to create unforgettable memories for your entire family on your next vacation!
Research Destinations
The first step in planning a family vacation is to consider the interests and preferences of everyone going on the trip. Write down what each family member enjoys, from exploring nature to indulging in local cuisines. Making a list will help you narrow down destinations that offer something for everyone. Consider locations with various attractions to ensure that the destination caters to a wide range of ages and offers activities suited to all abilities.
Choose the Right Accommodations
Once you've selected a destination, it's time to look for accommodations that cater to children and seniors. Start by researching hotels and vacation rentals that offer accessible rooms and facilities for seniors with mobility issues. Accessibility could mean wheelchair ramps, grab bars in the bathroom, or even a walk-in shower. 
Next, think about the location of your accommodations. Are they close to the attractions you want to visit? Ideally, you'll want to choose a place that's close and keeps everyone comfortable. Additionally, look for accommodations with amenities for children and seniors, such as pools, game rooms, and on-site dining options.
Plan Activities and Attractions
When it comes to planning activities and attractions, prioritize options that are accessible and enjoyable for seniors. Avoid activities that require extensive walking or physical exertion, and opt for attractions with wheelchair accessibility and accommodations for those with mobility issues.
To balance the interests of children and seniors, schedule activities that everyone can enjoy together, such as scenic drives or boat tours. You can also plan separate activities for each group. Separate activities allow them to enjoy their preferred pastimes while spending quality time together as a family.
Be mindful of seniors' health needs when scheduling the day's activities. Make sure to include breaks and rest periods, and be aware of any medical needs like medication schedules or dietary restrictions. 
Transportation Considerations
Your chosen destination should have accessible transportation options for seniors like wheelchair-accessible public transportation or rental vehicles. When going to and from attractions, keep seniors' mobility needs in mind and ensure that any necessary medical equipment, such as walkers or wheelchairs, can be accommodated.
Prepare for the Trip
Before setting off on your vacation, pack all necessary travel documents, medications, and medical supplies. Communicate with all family members about the planned itinerary and any special accommodations for senior relatives to ensure everyone is on the same page. Encourage open communication and flexibility throughout the trip to allow for adjustments to the itinerary as needed.
Hire a Senior Helpers Contra Costa Companion
Planning a family vacation with children and senior relatives doesn't have to be a daunting task. By considering the needs and preferences of everyone involved, you can create a memorable and enjoyable vacation experience for the whole family. Use the tips in this guide to ensure your family vacation is family and senior-friendly. 
If you live in Contra Costa, Walnut Creek, Oakland, Lafayette, Moraga, or nearby, consider reaching out to Senior Helpers Contra Costa for additional support and assistance in planning the perfect family vacation that accommodates the needs of your senior relatives.