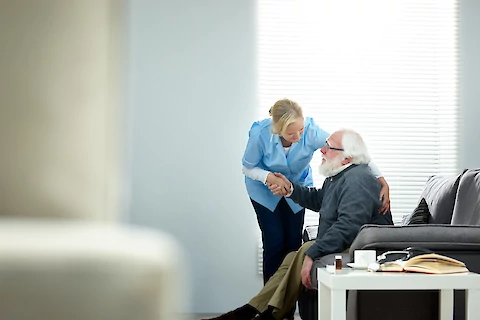 Caring for a senior after they have been in an accident can be challenging. It is important to keep in mind that the recovery process may take a while as seniors generally don't heal as quickly as younger people do. Taking into account both physical and mental changes that may occur, it is important to understand how best to support your senior relative through their healing journey post-accident.
Here's what you need to know, direct from Senior Helpers Concord, CA!
Activities to Help in the Recovery Process
It is very important to focus on activities post-accident that will help aid with the recovery process. Low-impact exercises and physical therapy can be significant components of recovery post-accident. These can help increase strength, endurance, and flexibility during this time. Encouraging activities like walking or water therapy will also stimulate mobility. This can help in providing your relative an outlet for some release from their pain. 
Additionally, it may be beneficial to investigate alternative healing services such as massage therapy or acupuncture. These treatments offer varying degrees of relief depending on how a senior's body responds.
Support Recovery Through Social Contact
Social contact when caring for seniors after an accident is important for their recovery as well. The human connection and endorphins released through social activities will leave a lasting effect on your relative. This will help make them feel more comfortable, relaxed, and secure in their new environment – key elements of healing. Schedule regular visits with friends or plan easy outdoor adventures such as a walk around the park so that they can be surrounded by nature during this time. Regular outings are also great ways to keep a senior in touch with their community. Considering taking them to a coffee shop for a beverage or the library, where they can pick out a new book or simply unwind.
Stay in Touch With Medical Professionals
It is important to remain in continuous contact with medical professionals during the recovery period as they will be able to provide you with pertinent information regarding their care. This can include anything from adjusting medications, checking intake and output, physical therapy recommendation updates, and much more.
Finally, have a physician or therapist available should questions or concerns arise; this communication source can help provide comfort for both the patient and yourself (the caregiver).
Senior Helpers Provides Senior Support Services
Recovering from an accident takes time and patience, especially when it comes to elderly people. By incorporating activities that will help in the recovery process, providing social contacts, and staying in contact with medical professionals during this time, caregivers are able to build a strong foundation of support for their loved ones. With the right care and attention post-accident, seniors can make a full return to their everyday lives faster than expected!
Are you looking for comprehensive senior care for yourself or a senior in the Concord, Pleasant Hill, Benicia, Brentwood, and Martinez areas? Contact Senior Helpers today to learn more about the services we offer!