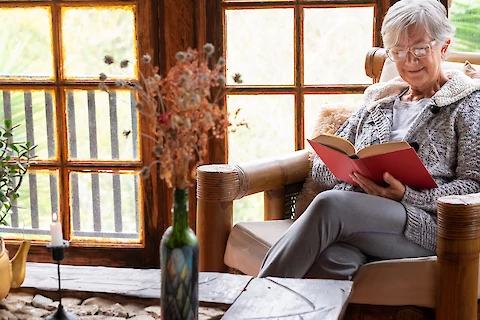 As the leaves change color and the air grows crisper, there's no better time to get lost in a good book. And what could be more appealing than curling up in a cozy reading nook at home during the cool fall months?
Seniors who cherish their reading time and are looking to create an inviting, comfortable space where they can immerse themselves in their favorite reads can benefit from this guide. Read on as we discover tips on how to choose the perfect location and select ideal seating and lighting, how to ensure the space is snug and warm for ultimate comfort, and a selection of soothing fall reads to enrich seniors' experience.
Choose the Perfect Location
The location of a reading nook plays a significant role in seniors' comfort and reading pleasure. Look for a place in the home that is quiet and peaceful, away from the hustle and bustle of household activities. A corner in the living room, bedroom, or even a sunlit spot on an enclosed porch can all make lovely reading spots. The key is to find a place where seniors feel relaxed and undisturbed.
Consider the Essential Elements of a Cozy Fall Reading Nook
When it comes to setting up a fall reading nook for seniors, two essential elements are critical - lighting and seating.
Lighting
Adequate lighting is crucial for a perfect reading ambiance and to protect seniors' eyes. Older adults often experience vision changes that make better lighting necessary. A smart choice could be a swing arm lamp that allows seniors to adjust the direction of light based on their seating position. If the nook is near a window, make the most of the natural light during the daytime.
Seating
Comfort is king when it comes to seating for a fall reading nook. An overstuffed armchair or a recliner can offer great comfort for extended periods of reading. If mobility is a concern, consider a lift chair that can help seniors stand up with ease. Add a small side table to keep your books, reading glasses, or a cup of warm drink close at hand.
Make the Reading Nook Snug
A cozy reading nook should feel inviting and warm, especially during the fall. Add soft, plush cushions to the chair, and keep a soft throw blanket with a fall pattern handy for those chillier days. Consider surrounding the area with items that make the space feel personal and comforting, like family photos or favorite mementos.
Find Soothing Fall Reads
Now that your fall reading nook is set up, it's time to settle in with a great book. Fall is a wonderful time to delve into classics like 'To Kill a Mockingbird' or 'Pride and Prejudice'. If you prefer lighthearted reads, 'A Man Called Ove' is an uplifting tale filled with humor and heart. For those who enjoy mystery, 'The Cuckoo's Calling' by Robert Galbraith (a pseudonym for J.K. Rowling) could be an engaging choice.
Get More Suggestions From Senior Helpers Concord, CA
Creating your cozy fall reading nook can be a joy in itself, and a wonderful way to enhance your reading experience. Remember, this is your personal space, so tailor it to suit your comfort and preferences.
If you live in Concord, Pleasant Hill, Benicia, Brentwood, or Martinez and require assistance setting up your reading nook or with other daily activities, don't hesitate to contact us at Senior Helpers Concord, CA. We're here to enhance your quality of life and help you enjoy your golden years to the fullest.