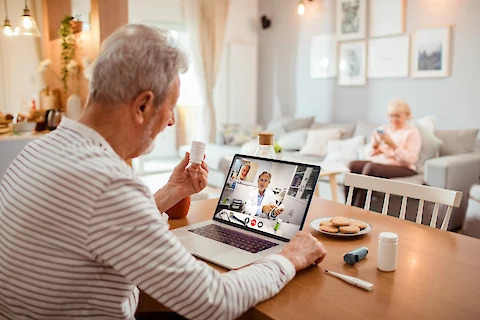 Navigating the world of telehealth can be quite an adventure, especially for the senior community. As technology continues to change and shape our lives, even doctor visits have moved to the digital realm. Telehealth for seniors is a marvelous tool that brings healthcare right to their doorstep— or rather, their screens. And while it can seem daunting at first, with a little preparation and understanding, it can dramatically improve the way seniors access healthcare.
Preparing in Advance for Telehealth Visits
The secret to a successful telehealth visit for seniors lies in preparation. Have a sit-down with your senior family member and help them jot down any concerns or questions they have. This will ensure they don't forget to address important issues during their consultation.
Maintain a Medication List
You should maintain a current list of their medications, including dosages and timings. Having this at hand saves crucial time and helps the doctor make informed decisions. A particular medication could be the culprit of new symptoms, so having this information handy is necessary.
Ensure the Technology Works
The final step in preparing for telehealth visits for seniors is technical and incredibly vital to the success of the online appointment. Get your telehealth platform up and running in advance. Do a trial run to troubleshoot any issues, and make sure your senior loved one knows how to use the features they'll need.
Ensuring Effective Communication During Telehealth Visits
Communication can make or break seniors' telehealth experience. Your loved one might be unused to discussing health conditions over a video call. Coach them to speak clearly, and not to hesitate to ask the doctor to repeat or explain anything they don't understand. As a caregiver, you could also consider joining the call to help facilitate the conversation and ensure important details aren't overlooked.
Importance of Routine Check-Ups
While telehealth provides a certain level of convenience for seniors, it shouldn't become an excuse to skip routine check-ups. Remember, consistency is key to monitoring a senior's overall health.
Encourage your loved one to follow the same schedule they would if they were physically visiting their doctor. This way, the doctor can track any changes and make necessary interventions early on, keeping their health in check despite the geographical distance.
Overcoming Common Challenges in Telehealth
Telehealth with seniors isn't always a walk in the park. Technology can be overwhelming for them, and issues can arise during calls. Patience is the key here— so stay calm, troubleshoot issues as they arise, and ensure you help them stay connected. Remember, the goal of telehealth visits is to provide care, not create stress.
Work With Senior Helpers Concord, CA
While telehealth might seem like a challenge initially, the convenience and continuity it provides to seniors are worth the effort. By planning ahead, practicing good communication, and maintaining regular check-ups, your senior loved one can enjoy maximized benefits from their telehealth visits.
If you live in Concord, Benicia, Pleasant Hill, Martinez, or Brentwood, and need professional help caring for your senior loved ones, contact us at Senior Helpers Concord, CA. We are dedicated to providing high-quality care and helping you make the best use of resources, like telehealth, for your loved ones.