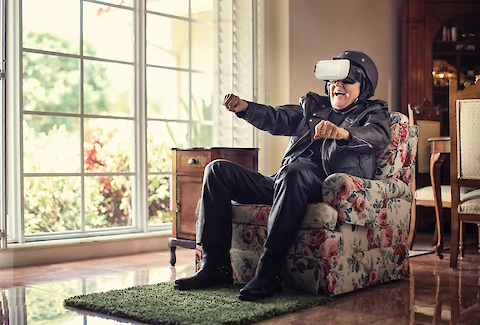 As people age, they may suffer the effects of decreased physical and mental health. Senior citizens may rely on virtual reality therapy to help them maintain their independence and manage their physical, cognitive, and emotional health challenges. Virtual reality therapy can be used in conjunction with traditional treatments like physical, occupational, and speech therapies or by itself as an alternative to these more familiar senior care techniques. 
What Is Virtual Reality Therapy?
Virtual reality therapy (VRT) is a computer-based approach to medical treatment that uses interactive software and specialized equipment designed to stimulate the senses. Your senior loved one wears virtual reality goggles and an audio output device, along with other sensors like gloves or controllers, to experience simulations of real-world activities such as driving, flying airplanes, or participating in team sports. 
Benefits of Virtual Reality Therapy
VRT is beneficial in helping seniors adjust to the changes associated with aging. Some of the benefits of virtual reality therapy include:
Improved Mobility
VRT is an effective way for seniors to strengthen their bodies and enhance the quality of daily life. It can help increase flexibility, mobility, and strength while reducing chronic pain.
Reduced Stress
Virtual reality therapy allows seniors to escape the daily stressors that can take a toll on their overall well-being. The immersive experience of VRT helps reduce feelings of depression, anger, and anxiety while providing a much-needed distraction from everyday life. 
Improved Cognitive Function
VRT can also improve cognitive abilities in your senior loved one. Activities like puzzles and memory games are commonly used in virtual reality therapy to help increase mental agility, focus, recall, and problem-solving skills.
Reasons Why Some Seniors Prefer Virtual Reality Therapy
With the emergence of virtual reality therapy, more and more seniors are skipping traditional treatments like physical, occupational, and speech therapies in favor of VRT. Here are some reasons why senior citizens prefer to use virtual reality therapy:
Accessibility
Virtual reality therapy is becoming increasingly accessible and convenient for seniors to access. There are many VRT programs available on the internet, in specialists' offices, or even as mobile apps that can be accessed from any device with a virtual reality headset.
Cost
This therapy is a more affordable option than traditional therapies and equipment. VR headsets, gloves, controllers, and software can cost significantly less than other therapy-related items, such as gym memberships, special chairs, or exercise machines. 
Comfort
One of the biggest advantages of virtual reality therapy is its comfort level. Seniors can access and complete their treatment in the privacy and comfort of their own homes, eliminating the stress of traveling to an appointment or having sensitive treatments witnessed by strangers. 
Senior Helpers Cameron Park - El Dorado County Invests in the Well-being of Your Senior Loved One
Virtual reality therapy provides your senior loved one with a convenient and affordable alternative to traditional therapies while offering a myriad of benefits in Cameron Park, Sacramento, El Dorado County, Shingle Springs, South Lake Tahoe, Plymouth, Sutter Creek, Sloughouse, Elk Grove, and Wilton. At Senior Helpers Cameron Park - El Dorado County, we want to partner with you to provide excellent care for your senior parent. Reach out to us now!