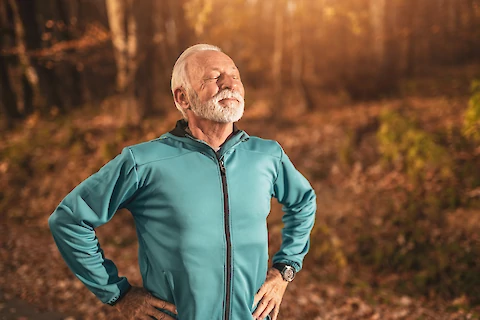 Proper breathing is vital to our health and well-being, especially in older adults. As we age, our respiratory system isn't as efficient as it once was. This makes physical activities like exercising or even common daily tasks more difficult. One overlooked element of breathing is the advantages of nasal breathing for seniors as compared to mouth breathing.
In this post, we'll look at the advantages of nasal breathing for seniors and why it is a practice that they should consider adopting.
Advantages of Nasal Breathing for Older Adults
Nasal breathing is not just for yogis and certain meditation techniques anymore. Some research indicates that nasal breathing can also be beneficial to older adults. Some of the benefits include increased alertness and reduced risk of coughing, which are both important for seniors with already fragile systems or those suffering from certain respiratory conditions.
Here's what you need to know about the scientific research behind nasal breathing.
Increased Alertness
Nasal breathing increases the amount of oxygen in the system. This results in greater alertness and even increased concentration, according to Healthline. For seniors who already have difficulty concentrating or focusing on everyday tasks, nasal breathing can help to improve mental clarity and overall cognitive health.
Reduced Risk of Coughing
When breathing through the nose, seniors are less likely to experience coughing. This is because the air that enters through the nose is naturally more humidified and filtered of allergens before reaching the lungs. By keeping irritants from entering the body, seniors can avoid coughs and allergies related to dust or changes in temperature.
Reduced Exposure to Foreign Substances
By breathing solely through the nose, seniors can reduce their exposure to foreign substances found in the environment. Many of these elements have been linked with respiratory conditions that commonly plague seniors such as bronchitis or even asthma. Additionally, air pollution is increasingly dangerous for seniors living in cities and towns prone to high levels of vehicle exhaust or other pollutants from industrial sources.
Nasal breathing for seniors can also reduce the risk of issues related to seasonal allergies. This can be beneficial for seniors, whether they live in a big city or a small town.
Senior Helpers Provides Premium Senior Care Services
Nasal breathing is a simple but often overlooked technique that can help improve functional health and alertness in seniors. By increasing the amount of oxygen entering their bodies, reducing exposure to foreign substances, and reducing the risk of irritating coughs, seniors can potentially experience better overall health by switching to nasal breathing techniques.
For advice on optimizing your senior's breathing techniques and physical activity routine, reach out to Senior Helpers Berkeley. Our dedicated caregivers can enhance the health and well-being of seniors in the Berkeley, Oakland, Alameda County, Vallejo, Pinole, San Pablo, El Sobrante, Richmond, Kensington, and El Cerrito areas. Contact us today to learn more!