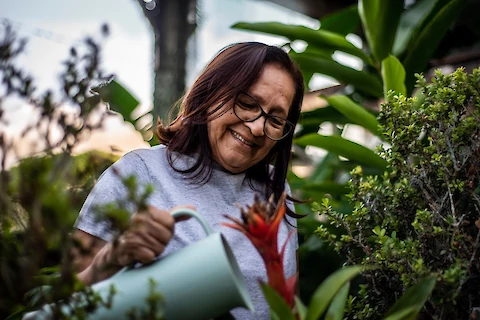 As the days get longer and the weather warms up, springtime brings with it the perfect opportunity for seniors to venture outdoors and engage in some rewarding activities. In fact, one fantastic way for seniors to enjoy the outdoors—while also staying active and connecting with others—is through community gardening.
Read on as we explore the benefits of community gardening for seniors, guide them through finding one nearby, as well as introduce them to some fantastic gardening opportunities in the East Bay.
The Benefits of Community Gardening for Seniors
Community gardening offers a wealth of benefits for seniors, encompassing not just physical gains, but mental and social advantages as well. Here are a few:
Physical Benefits
Engaging in gardening tasks helps seniors maintain and improve their physical fitness.
Working with plants and gardening tools can enhance dexterity and mobility.
Mental Benefits
Spending time in a garden can also help reduce stress and anxiety, as being surrounded by nature has a calming effect.
Tackling and completing gardening tasks imparts a sense of achievement and purpose, boosting self-esteem.
Social Benefits
Joining a community garden also allows seniors to meet like-minded individuals, fostering new friendships.
Working together in a garden can help strengthen ties with neighbors and the local community.
How Seniors Can Find a Community Garden in Their Area
Search Online
Visit the American Community Gardening Association (ACGA) website to search for community gardens near seniors. Also, local government websites often provide listings of community gardens and other related events.
Reach Out to Local Organizations
East Bay senior centers or community centers have information about community gardens. Gardening clubs or horticultural societies can also direct seniors toward local gardening opportunities.
Visit Local Nurseries or Garden Supply Stores
Gardening and landscaping shops often have information on nearby community gardens in Alameda and Contra Costa counties. In fact, some of them even host gardening workshops!
Contact the University of California Master Gardener Program
Many state universities also offer master gardener programs, and the UC system is no exception. Their program's website offers helpful information on local events and resources, as well as gardening tips tailored to seniors in Contra Costa and Alameda Counties.
Three Tips for Joining a Community Garden
Once seniors have found a suitable East Bay community garden, they can follow these steps to become a member:
1. Reach Out to the Garden Coordinator or Organization in Charge
Express interest in joining and ask about the availability of garden plots.
Inquire about any fees, rules, as well as expectations for garden members.
2. Attend an Orientation or Introductory Meeting
Use this opportunity to meet other garden members as well as familiarize themselves with the layout and resources and gain a better understanding of the garden's goals and objectives.
3. Start Small and Be Patient
Choose a manageable plot size or gardening project for a senior's first season.
Remember that gardening is a learning process, so seniors don't need to be discouraged by setbacks or challenges.
Let Senior Helpers Grow With You!
Are you inspired to explore the many gardening opportunities available in the Berkeley, Oakland, Alameda County, Vallejo, Pinole, San Pablo, El Sobrante, Richmond, Kensington, and El Cerrito areas? If you need assistance in finding and joining a community garden or seeking other local resources for seniors, please contact us at Senior Helpers Berkeley today. Happy gardening!