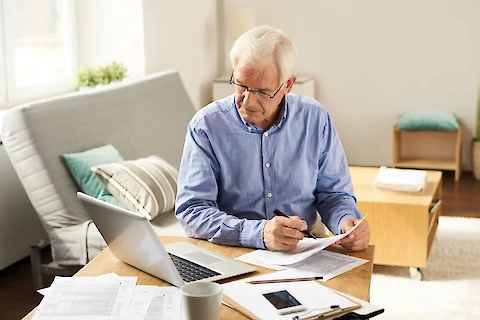 Most of us treasure our independence and the ability to handle our own affairs as we age, including the often-dreaded task of filing taxes. If you're a senior who prefers to take on the responsibility of managing your taxes without the help of an advisor or accountant, you're not alone. With some organization and a bit of determination, you can successfully navigate the tax season on your own. In this blog post, we'll share some helpful tax tips for seniors who are looking to tackle their taxes with confidence, from staying organized to seeking advice from trusted sources.
So let's dive in and help you conquer your taxes like a pro!
1. Keep All Tax Documents in One Place
Organization is key when it comes to handling your taxes. To make the process as smooth as possible, keep all your tax documents in a designated folder, binder, or digital storage system. This includes W-2s, 1099s, receipts for deductible expenses, as well as any other relevant paperwork. Having all your documents in one place will make it easier to find what you need when it's time to file.
2. Ask Family Members or Friends for Advice or Practical Tips
Don't be shy about seeking advice from family members or friends who have experience filing their taxes or who may have dealt with similar tax situations. They might have valuable insights or practical tax tips that can help seniors navigate the tax process more easily. Just be sure to verify any advice you receive, as tax laws and regulations can change from year to year.
3. Ensure Taxes are Completed Well in Advance
Procrastination can lead to unnecessary stress and potential mistakes when it comes to taxes. To avoid last-minute scrambles, aim to complete your taxes well before the deadline. Set reminders in your calendar or create a timeline to help you stay on track with your tax prep. If you find yourself needing more time, remember that you can request an extension from the IRS.
4. Understand Tax Deductions and Credits for Seniors
As a senior, you may be eligible for certain tax deductions and credits that can help you save money. Familiarize yourself with common deductions, such as medical expenses and property taxes, as well as credits like the Credit for the Elderly or the Disabled. Be sure to keep thorough records of any expenses related to these deductions to maximize your savings.
5. Avoid Common Tax Scams Targeting Seniors
Unfortunately, scammers often target seniors during tax season with malicious intent. Common tax scams include fake IRS phone calls, phishing emails, or fraudulent tax preparers. To protect yourself, never give out personal information over the phone or via email, and research any tax preparer before entrusting them with your financial information. If you ever suspect a tax scam, report it to the IRS or your local authorities immediately.
6. Use Online Resources for Tax Assistance
The internet can also be a valuable resource for tax information and assistance. In fact, the IRS website offers a wealth of information, including free tax filing options for those who qualify. Tax software can also be helpful, as many programs offer user-friendly interfaces and step-by-step guidance. When using online resources, always ensure that you're accessing reputable and secure websites.
7. Ensure Accuracy When You File
One of the most important tax tips for seniors is accuracy when filing taxes. Take the time to double-check your documents for errors or discrepancies before submitting your return. This includes verifying social security numbers, ensuring that all income is reported, and checking your math on deductions and credits. Careful attention to detail can help you avoid potential penalties or delays in receiving your refund. If you need in-person help, the IRS has opened Taxpayer Assistance Centers around the country!
We Can Help!
If you live in Berkeley, Oakland, Alameda County, Vallejo, Pinole, San Pablo, El Sobrante, Richmond, Kensington, or El Cerrito, Senior Helpers Berkeley is here to support you with any additional assistance as you tackle the tax season. Don't hesitate to contact us and let us help you make it as stress-free as possible.