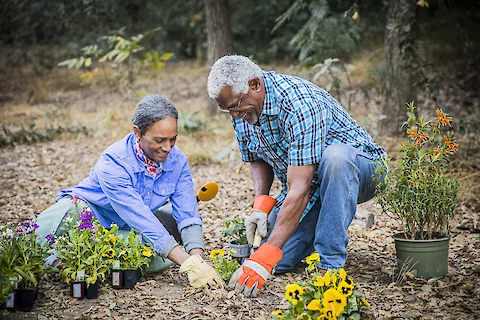 As the weather begins to warm up, it's the perfect time to consider planning a spring garden. Gardening can be a relaxing activity for seniors looking to spend time outside. It can also be extremely rewarding when done correctly. If it's your first time planning a spring garden, we've put together a guide to provide you with tips, tricks, and plenty of inspiration. 
Benefits of Gardening for Seniors
Physical Benefits
Gardening is a low-impact physical activity and is a great way to spend time in nature. Raking, digging, and watering plants all require moderate movement that contributes to daily exercise goals. Spending time in the sun and getting fresh air can also be energizing and a good source of Vitamin D.
Mental Benefits
Gardening has been shown to reduce stress, improve memory, and elevate mood. Weeding, planting, and pruning can help focus the mind, while the tangible results of gardening—such as watching plants grow—can provide a sense of satisfaction and accomplishment.
Social Benefits
Gardening can even help connect you to members of your community. Whether it's a group at a local community garden, or simply a neighbor who appreciates a beautiful flower bed, gardening can help build meaningful relationships with those around you. Sharing flower cuttings as well as herbs and vegetables from your garden is a great way to build community.
Planning Your Garden
Choosing a Location
For a successful garden, choosing the right location is key. Consider factors such as sunlight and shade, and how much space you have available. It's also important to consider local wildlife and how to keep pests out of your chosen space. If you have limited space, you can still make the most of it with containers and vertical gardens. If you don't have any space with access to sunlight, consider getting involved in community gardens.
Selecting Plants
Start by deciding if you want to plant flowers, vegetables, herbs, or any combination of these plants. Remember to select plants that are suitable for your climate for the best results. Some herbs and vegetables that do well in Bakersfield, CA during the spring include:
Corn
Dill
Green beans
Okra
Winter Squash
Zucchini
If you're looking to plant flowers in Bakersfield, some native species include:
California Poppy
California Wildrose
Yellow Rayed Lasthenia
Desert Globemallow
Sky Lupine
Sticky Monkeyflower
Preparing the Soil
Prepare the soil for your garden by removing any weeds, enriching the soil with fertilizer, and testing the soil for pH and nutrient levels. Selecting fertilizer and balancing the pH levels of the soil will depend on the type of plants you choose. 
Planting and Maintenance
Once you've chosen your plants and prepared the soil, it's time to start planting! Make sure to water and fertilize your plants regularly, and use pest control methods such as companion planting and mulching to protect them from pests.
Enjoying Your Garden
Nothing beats the taste of fresh-picked produce or the smell of fresh-cut flowers. Growing your own garden gives you access to fresh fruits, vegetables, herbs, and flowers. You can also use your garden as an opportunity to share with friends and family. Invite them over to enjoy the fruits of your labor and make new memories! 
Senior Helpers Bakersfield Can Help
Senior Helpers Bakersfield serves seniors in Bakersfield, Delano, Frazier Park, Kern County, Lamont, McFarland, Shafter, Taft, Wasco, and Wofford Heights. Contact us today to learn how we can help make your gardening dreams a reality this spring!