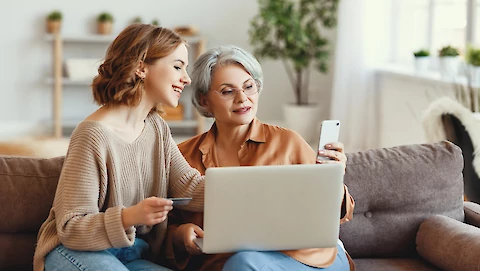 These days, more and more people are turning to online shopping for its convenience and wide range of options. However, navigating the e-commerce world isn't always as straightforward as it seems. Safety concerns such as scams, frauds, and identity theft can cast a cloud over the online shopping experience, particularly when it comes to seniors who may be new to the concept. 
Senior Helpers BakersfieldSenior Helpers Bakersfield aims to ensure that seniors are equipped with the knowledge they need to safely explore and benefit from online shopping. So, whether you're an older adult just stepping into the internet marketplace or someone looking to assist a senior family member with online purchases, this beginner's guide is designed for you!
Understanding the Basics of Online Shopping
Online shopping is essentially buying goods or services directly from a seller over the internet. A variety of platforms offer this service, including established giants like Amazon and eBay, as well as numerous other specialized online stores. As convenient as it is, seniors need to be aware of safety measures when shopping online.
Verifying the Authenticity of Websites
A key step in maintaining online safety is verifying whether the website you're shopping on is authentic. Legitimate websites often have "https://" at the beginning of their URL, indicating a secure connection. Be wary of sites with numerous pop-ups, misspelled words, or incomplete contact information as they could be fraudulent. It's always safer to choose well-known retailers or platforms.
Ensuring Secure Payment Gateways Are Used
When making an online purchase, you'll typically come across a payment gateway. This is the method that a website uses to process the payment for your purchase. A secure gateway will ensure your credit card details or other payment information is encrypted and safe from hackers. Look for indications such as a lock symbol next to the website URL or the presence of "https://" to identify secure gateways.
Maintaining Strong Passwords for Personal Accounts
Strong passwords are an online safety must-have. Mix up letters, numbers, and special characters to create a password that's hard to crack. Avoid obvious choices like birthdays, always opt for two-step verification when available, and remember to update your passwords regularly. Repeating the same password can leave multiple accounts vulnerable if one gets hacked.
Additional Tips for Online Shopping Safety
While online shopping, keep your personal information limited. Only divulge what's necessary for the purchase and avoid saving card details for future transactions. Also, beware of suspicious links and pop-ups. They may seem tempting but could be an attempt at phishing. Being able to identify and steer clear of such scams can drastically enhance your online shopping safety.
Senior Helpers Offers Personalized Senior Care Solutions
Online shopping truly is a boon, making everything available at the click of a button. However, being aware of security measures is crucial, especially for seniors. Remember to verify websites, ensure secure payment gateways, maintain robust passwords, and keep your personal information limited. 
Living in Bakersfield, Delano, Shafter, Taft, or Wofford Heights and need assistance with online shopping or any other senior services? Contact us at Senior Helpers BakersfieldContact us at Senior Helpers Bakersfield for personalized senior care services and support.