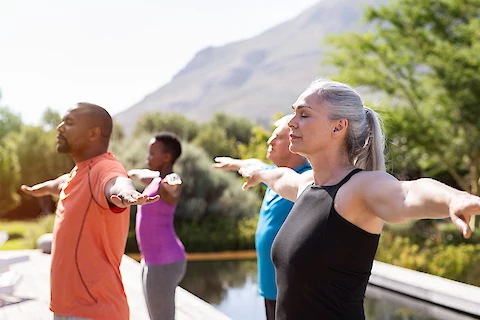 Yoga allows us to slow down, focus on breathing, and reduce stress. It's also great for boosting balance, developing core strength, and increasing flexibility. 
In this blog, the team at Senior Helpers in Tempe explains the value of yoga and similar restorative exercises. We'll also provide you with an actionable guide, so you can help your senior family member get started safely.
The Value of Yoga, Stretching, and other Restorative Exercises for Seniors
As we age, our bodies undergo natural changes, and we can all expect to lose some flexibility, muscle strength, and bone density.
It's like that adage, "Use it or lose it." If we stay as active as possible, we can retain more strength and flexibility. Plus, better balance reduces the risk of dangerous falls, which are particularly dangerous for seniors. 
But those aren't the only benefits of yoga or similar exercises. After a session, your loved one will likely experience:
Increased cognitive function
Reduced arthritis pain
Reduced back pain
An overall good feeling
And reduced stress, which can help control high blood pressure
You may think, "My loved one isn't ready for advanced yoga moves. I need a way to start slow." We've got you covered!
How to Begin Yoga at Home With Your Senior
The good news is that several poses and restorative exercises are appropriate for anyone, even if they live with mobility struggles. The trick to a successful session is to keep it short and straightforward in the beginning.
Start with Ujjayi Breathing
This restorative pose improves deep breathing and posture. Have your loved one sit on the edge of a chair with their hands resting in their lap. Ask them to keep their back straight and use both seat bones equally. Then, focus on inhaling through their nose and exhaling through their mouth. You can do this alongside your parent. After a few minutes, you'll both feel grounded and relaxed.
The Cat / Cow Pose
While seated, inhale, look up at the ceiling and arch your back. Hold this pose for a moment and slowly reverse it. Exhale as you round your back and look towards the floor. Do this a few times, slowly. You'll feel the tension, aches, and pains leaving your back.
Arm Circles
Now that your loved one is relaxed, finish with some gentle arm circles. Gently swing each arm in a circle forward a few times, then back a few times. And you're done!
This is a good stopping point for your first session. You want to avoid injury by overworking, so enjoy a healthy beverage as a reward and do more yoga tomorrow.
Local Resources Near Tempe and Phoenix, AZ
If you're ready for more advanced yoga, we've put together a list of local resources specializing in yoga and exercise for seniors. Check them out:
At Senior Helpers in Tempe, we have professional caregivers serving Tempe, Ahwatukee, Mesa, Chandler, South Phoenix, Central Phoenix, Arcadia, Biltmore, Laveen, Sun Lakes, Queen Creek, Gilbert, San Tan Valley, Casa Grande, and Maricopa.
Our mission is to help seniors age in place successfully at home. We offer companion care, specialized care for seniors living with Alzheimer's and dementia, and respite care for caregivers who need a few days off to tackle personal tasks, like going to court or getting dental work. Contact us if you'd like to learn more.