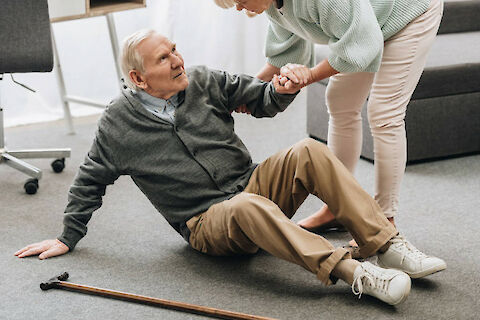 Pandemic Poses Another Risk for Older Adults: Falling
Older adults have borne the brunt of the coronavirus' wrath, with rates of hospitalizations and deaths far higher than those of any other age group. And new research shows the pandemic has likely dealt another blow to 50-plus Americans by increasing their risk of falling.
A number of factors can lead to falls, especially as we age. Taking certain medications increases fall risk; so does worsening vision or a vitamin D deficiency. But a major threat is physical inactivity, and since the start of the pandemic, many older adults have been moving less.
In fact, more than one-third of people between the ages of 50 and 80 reported a decline in physical activity during the first 10 months of the pandemic, according to a report from the University of Michigan National Poll on Healthy Aging, which is conducted in partnership with AARP. And 35 percent of respondents spent less time on their feet during a typical day. All totaled, more than a quarter of surveyed adults say they're in worse shape now than before COVID struck.
The pandemic has affected "the things that you wouldn't think about" when it comes to staying active, says Geoffrey Hoffman, an assistant professor at the University of Michigan's School of Nursing and an author on the report. "Going to the grocery store, going to the bank, going to visit your grandkids — [avoiding these activities] has put a tremendous dent in the amount of time people spent on their feet daily."
Routine errands may not sound like much, but they keep the body in motion, says Jennifer Brinckerhoff, M.D., a geriatric specialist with Hebrew SeniorLife and an instructor at Harvard Medical School. "What happens if you're not going out, you're not using your muscles as much," she adds. As the body gets weaker, chances of falling grow stronger.
Add to it closed gyms and delayed routine health care appointments — including physical therapy and rehabilitation — and "it's just been sort of a tsunami, a perfect storm of things to sort of accelerate all of those risks" for falling, Hoffman says.
A quarter of surveyed adults had a fall between March 2020 and January 2021, according to the report; 40 percent of them experienced more than one fall.
Concern over falls is growing
The pandemic has only magnified what has become a serious concern in recent years. About 36 million older adults fall annually, resulting in 32,000 deaths, according to the Centers for Disease Control and Prevention (CDC). And the rate of fall deaths in the U.S. is climbing as the population ages — it increased 30 percent from 2007 to 2017, CDC data shows.
"Beyond that, we see this syndrome of fear of falling. People are afraid they're going to fall and so they further restrict their activities, they decrease their quality of life, they become more deconditioned," says Cathleen Sellner Colon-Emeric, M.D., professor of medicine and chief of the division of geriatrics at Duke University School of Medicine. "And it's just this negative downward spiral, where their fall risk increases because of those behaviors. So it's really something that we work hard to try to interrupt."
More than 1 in 3 older adults (36 percent) surveyed for the National Poll on Healthy Aging said they were afraid of falling, and among them, 23 percent became more fearful of falling since March 2020. This fear was much greater among people who reported less or worsened physical activity and mobility.
How to prevent falls
The good news: Falls are not a normal part of aging, the CDC says, and older adults can do a number of things to lower their risk of experiencing one.
First and foremost, stay physically active— whether indoors with online workouts or outside. "We've got pretty good data now that exercising outdoors is really quite safe" when it comes to COVID-19, Colon-Emeric says. And be sure to focus on movements that strengthen the legs and improve balance, like tai chi.
Poll director Preeti Malani, M.D., says that exercising is "even better" if it "happens in conjunction with social interaction." The Michigan report found that the percentage of older adults reporting falls was higher (32 percent) among those who lacked companionship.
Getting the vaccine if you haven't already can help make socializing safer. And "if it starts to be that you have to put a mask back on, don't let that stop you from acknowledging that you can still go out and about and do things," Brinckerhoff says, referring to the return of some restrictions as new COVID-19 cases and hospitalizations surge in largely unvaccinated communities.
Limiting alcohol use, which has increased during the pandemic, can also lower the likelihood of falls. And older adults can ask their doctor or pharmacist to review the medications they take, both over-the-counter and prescription, and limit those that cause dizziness or sleepiness. In 2017, 94 percent of adults 65 and older took medicine that increased their risk of falling, up from 57 percent in 1999, a 2020 study found.
If you've noticed a decline in your vision, it may be time for an eye appointment. The CDC recommends getting your eyes checked by an eye doctor at least once a year to help prevent falls. And wearing a pair of thin-soled shoes can be helpful for adults with neuropathy.
Small adjustments also can make your home environment safer. For example, opt for short-pile carpet and install railings on both sides of stairways. Add a lamp or two to brighten dimly lit rooms, and rearrange furniture as needed so you can get around easily.
It's possible that the trends highlighted in this latest fall research could reverse, Hoffman says, "but to the extent that we neglect to heed the warning signs and the pandemic continues on and on, I think we will see increases in these risks that are really worrisome."
He adds, "It may not be super obvious to the naked eye, but helping people get out, get around and spend more time on [their] feet on a daily basis" can help.
Rachel Nania writes about health care and health policy for AARP. Previously she was a reporter and editor for WTOP Radio in Washington, D.C. A recipient of a Gracie Award and a regional Edward R. Murrow Award, she also participated in a dementia fellowship with the National Press Foundation.
10 Ways to Reduce Fall Risks
A few simple home changes can keep you safer on your feet
Install carpet with short, dense pile.
Secure rugs with double-sided carpet tape.
Reposition electrical and extension cords out of the way.
Use nightlights.
Remove rugs at the top or bottom of stairways.
Do away with floor wax.
Use rubber bath mats or strips in bathtubs and showers.
Install at least two grab bars in the shower/bath.
Keep exits and hallways open.
Repair broken or uneven pavement on walkways and driveways.