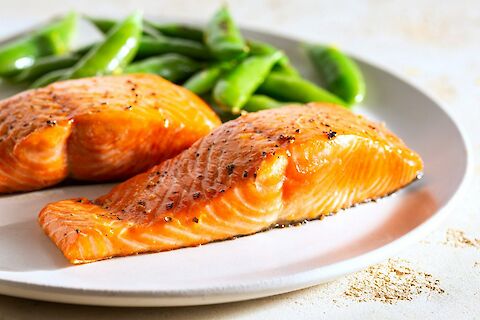 New Report Highlights Healthiest Foods for Your Brain
As the executive director of the Global Council on Brain Health (GCBH), I am always on the lookout for brain-healthy foods. I scan grocery aisles for chocolate bars with more than 70 percent cocoa, feel that I'm stimulating my brain when I down my morning coffee and even feel virtuous when drinking a glass or two of red wine. Turns out all my assumptions have been wrong.

The GCBH recently released a major report on how nutrition affects the brain. Brain Food: GCBH Recommendations on Nourishing Your Brain Health details how eating a healthy diet can strengthen your brain and reduce dementia risk.

When I attended the September 2017 meeting of GCBH experts in Baltimore, Maryland, I found to my surprise that although there are some studies that find brain benefits from coffee, chocolate and red wine, there isn't enough reliable scientific evidence to recommend these foods to help keep your brain healthy. (Darn it!) Instead, the international group of experts recommended a heart-healthy diet with plenty of fish, fruits, vegetables, nuts and healthy fats and limited amounts of red meat, fried food and processed food. Rather than red wine and chocolate, the standouts were berries and leafy greens such as lettuce, spinach and kale. Although there was some disagreement among the group, it was fascinating to see that experts from Greece, Italy, China, Israel and the United States generally agreed on the type of diet that would benefit aging brains. The group strongly agreed, for example, that brain health and heart health are closely connected. They said many foods that keep your cardiovascular system healthy also help keep the brain healthy.

The group discussed the foods and nutrition that many of us wonder about when it comes to our diets including gluten, grains, fats, dairy—and, yes, chocolate and wine. They examined the evidence for brain health for diets from the Mediterranean, Scandinavia and Japan, as well as the MIND diet (Mediterranean-DASH Intervention for Neurodegenerative Delay) developed by epidemiologist Martha Clare Morris and her colleagues at Rush University in Chicago. (Check out pages 7 and 8 of the report to learn more about each of these diets.) The diet that lost out was the Western diet. It seems the typical Western diet that's high in salt, sugar and saturated fats can wreak havoc on both your heart and your brain. The experts detailed some foods that you should eat regularly, some that you should include in your diet and others that you should limit.
Encourage: 
Berries (not juice) 
Fresh vegetables (in particular leafy greens) 
Healthy fats (such as those found in oils, including extra virgin olive oil) 
Nutes (a high calorie food, so limit to a moderate amount) 
Fish and seafood 
Include: 
Beans and other legumes 
Fruits (in addition to berries, previously mentioned) 
Low fat dairy, such as yogurt 
Poultry
Grains 
Limit: 
Fried food
Pasteries 
Processed foods 
Red meat
Red meat products 
Whole fat dairy, such as cheese and butter
Salt
"The group agreed that the evidence points to green, leafy vegetables, fish, nuts, fruits and other healthy foods as helping foster good brain health. And we also agreed that fried foods, foods high in salt and processed foods are probably not good for our brains," said Morris, a GCBH governance committee member who attended the September meeting in Baltimore.

Eating a brain-healthy diet does make a difference in preserving memory and thinking skills as we age. The 2017 AARP Brain Health and Nutrition Survey of more than 2,000 Americans over age 40  found that adults who eat the recommended amount of fruits and vegetables report healthier brains and better mental well-being than those who don't eat those healthy foods. And the more fruits and veggies they ate, the better their brain health and mental well-being scores. Seems that I may need to get out of the chocolate aisle and into the produce section.