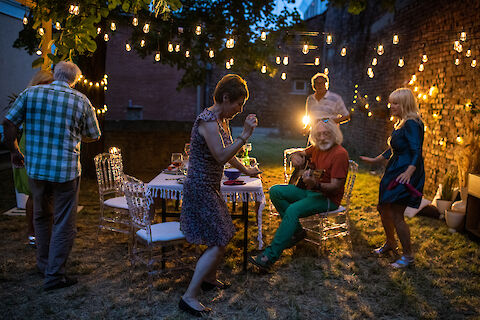 In-Home Assistance and a Hosting Dinner Party: How to Have Fun
Just because loved ones are 65 years or older doesn't mean they stopped having fun. A dinner party is an excellent way for older persons to have fun, stay active, and reminisce with family and friends. To make the dinner party successful:
Select the Appropriate Menu
The older population has a delicate and sensitive digestive system. Therefore, the menu should fit the host and attending guests when preparing their meals. According to the National Institute of Aging, an older person should consume foods free of added sugars, sodium, and saturated fats.
Ensure the meal is well balanced and complete with appetizers, main course, and desserts. Be sure to include a vegetarian menu to accommodate any vegans, such as veggie soup, veggie pasta, or steamed fish. 
A nice bottle of wine to compliment the menu is always a welcome idea. Have a non-alcoholic beverage for any guests who don't fancy wine.
The More, the Merrier
Understandably, the host might suffer from cognitive impairment due to various health conditions. However, these older individuals are always welcoming, homely, and accommodating. Inviting friends, family, and neighbors make the dinner merrier and more memorable. 
Whether the dinner party is formal or not, inviting people creates a loving aura and makes the older people feel loved.  
Include an Entertaining Game
Whether casual or formal, no dinner party for older individuals is complete without an entertaining game. To make it more exciting for all the dinner attendees, go with the classics, such as charades, playing cards, jigsaw puzzles, dice, dominos, and word puzzles. 
Besides, scientific evidence confirms that such games are great for patients with cognitive impairments caused by certain health conditions, such as Alzheimer's and Dementia. 
Don't Forget the Music at the Dinner Party
And what kind of party would it be without some music? Regardless of the dress code, menu, formal or casual, music is an integral part of any dinner party. Music spices up the party and helps create the right emotions and feel of the moment for any attendee. 
If the dinner party is small with a few attendees, you can help create a playlist of songs everyone can enjoy, especially the older persons. You can ask the host's family members or friends what genre their loved one loves. Alternatively, ask the older person so they feel involved in planning the party. For a bigger party, you can organize a band that can play whatever songs the attendees choose. 
Further, scientific reports suggest that physical activities, such as dancing, are healthy for older individuals' muscles, joints, and heart and make them feel better.
The Older Persons Deserve to Enjoy Themselves Too 
A dinner party is an excellent way for older individuals to have fun stay active, eat good food and boost their health while in the company of others. At Senior Helpers Tempe, our staff offers top-notch in-home assistance in Tempe, AZ, and surrounding areas. We can also help you set up great dinner parties that your older loved ones can enjoy. For more information on our in-house assistance in Tempe, contact us today.