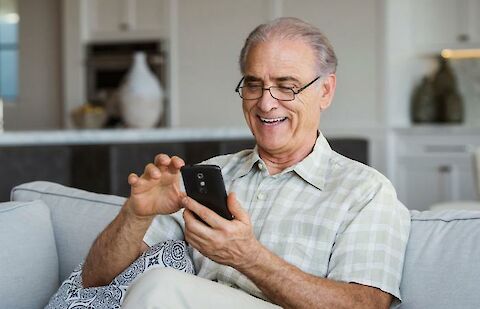 How to Use Your Smartphone to Scan Documents
Your smartphone, with its built-in camera, can help you take some extraordinary images, but the camera can also double as a pretty good flatbed scanner.
It's ideal for digitizing photos in albums, within frames or on a wall. But along with that, it can convert paper business cards you've been collecting, documents you need to keep with you, notes on projects, receipts for expense reimbursement and even whiteboards on which you've been brainstorming. You then can store those images or send them to someone via email or text.
A scan really means taking a photo, but the technology goes beyond that. Along with adding color correction to photos and magically repairing tears, some scanner apps include optical character recognition (OCR), which can translate typewritten and even handwritten words into editable and searchable text. Without OCR, when you scan a newspaper article, it saves the story as an image file on your phone, but you won't be able to search for a keyword or copy specific sentences to text a friend.
Here's a look at how to scan something using your phone, with either built-in tools or free apps.
What's built into your phone
With an iPhone you can use the Notes app to scan documents and photos as well as add a handwritten signature using your fingertip.
1. Open the Notes app and create a note by tapping the icon in the lower right corner of your screen, or select an existing one.
2. Tap the Camera button at the bottom of the screen, and select Scan Documents, even if you want to scan a photo.
3. Place whatever you're scanning in view of the camera. If your device is in Auto mode, your document will automatically scan. If you need to manually capture a scan, tap the Shutter button or one of the Volume buttons.
4. Drag the corners to adjust the scan to fit the page, then tap Keep Scan or Done. If it doesn't offer you a cropping tool automatically, you can choose it by tapping the icon at the bottom left of your screen.
5. Hit Save to keep your work.
If the document needs to be signed, follow these additional steps.
1. Open the Notes app, and then tap the document in the note.
2. Tap the Share button, which is at the top right of your screen and looks like a square with an arrow pointing up. Tap Markup icon.
3. Sign, using your fingertip or a stylus. You can use your fingers to zoom in and out of the document before you sign. Different pen and marker options are available at the bottom of the screen.
4. Tap Done.
If you want to see how to do this in action, I created a short video.
Android users can open the Google Drive app built into the phone. If you don't see the icon (a colorful triangle), on your home screen search for the word "drive" and it will pop up.
1. Open the Google Drive app, and at the bottom right tap Add, the large plus + sign.
2. Tap the Scan icon.
3. Take a photo of the document that you'd like to scan. Then tap Done.
4. Tap the Crop icon on the bottom right, and move the blue dots to adjust the scan area.
5. If it's a multipage document and you want all pages to be part of one PDF, tap the Add + symbol again to scan more pages, or tap the Checkmark to upload the document to Google Drive.
6. Tap the Save button when you're done.
Every Google Account starts with 15 gigabytes of free storage — shared across Google Drive, Gmail and Google Photos — but you can always pay for more or choose to download and save your scans to your phone's memory.