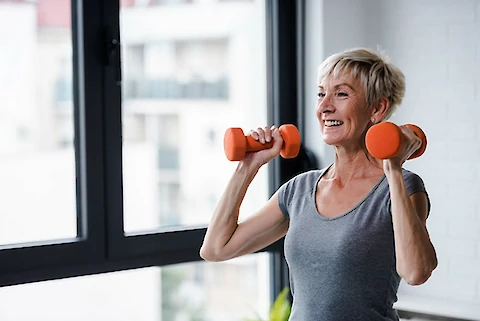 Even Brief Strength Training Sessions Can Pump Up Memory
Trying to improve your memory? Hitting the gym for some strength training workouts can help — and it may not take as much time as you think.

A team of researchers at the Department of Exercise Science at Murdoch University in Perth, Australia, conducted a study in 2018 involving a group of healthy adults between 41 and 69 years old who participated in twice-a-week strength training sessions for three months.

After 12 weeks, the participants showed improvement in delayed verbal recall, meaning the ability to remember given words or phrases after a period of time (usually from three to 20 minutes).

Some researchers involved in similar studies in the past — such as Audrey Duarte, previously at the Georgia Institute of Technology, where she led a lab that conducted related research  —  theorized that this may be partly due to the effects of short-term stress brought on by physical exertion, comparing it to the physiological effects of the stress some people feel when giving a speech.

Long-term stress can be bad for your health, she has noted, but short periods of stress have been shown to improve memory retention through the release of stress hormones such as cortisol and epinephrine.
When: February 5 through April 3, 2022.
Where:  12601 E. US Highway 60, Gold Canyon, AZ 85118
What: Experience a 50-acre medieval village, 16 stages, arts and crafts fair, jousting tournaments, and feasting all rolled into one event at the Arizona Renaissance Festival, February 5 through April 3, 2022.
Entertainment
The Renaissance Festival is Arizona's winter destination for quality entertainment. The village comes to life with costumed characters recreating a 16th-century marketplace, including the Queen and her court. In addition, the 16 Festival stages have ongoing performances by Festival favorites.
Games & Rides
Test your abilities at the Festival's many games: target shooting with bow or crossbow, storming the castle in a paintball battle or throwing a tomato at an insulting peasant at Vegetable Justice. For those patrons in the mood for an extreme challenge, you can test your physical mettle at the Climbing Tower or show your warrior side throwing a battle ax.
Jousting
The Age of Chivalry is Alive! Cheer on your Knight in the 5,000 seat arena of champions. Quite a spectacle, as two tons of horse, knight and armor gallop onto the field, prepared to do battle with ten-foot lances for a lady's honor. Spectators revel in the melee of falls, fights, and galloping horses, cheering for their favorite knight until the winner is proclaimed. When the joust is over, stop by and meet your champion and his steed at the arena entry.
Tournament Jousting is held three times a day in the Jousting Arena!