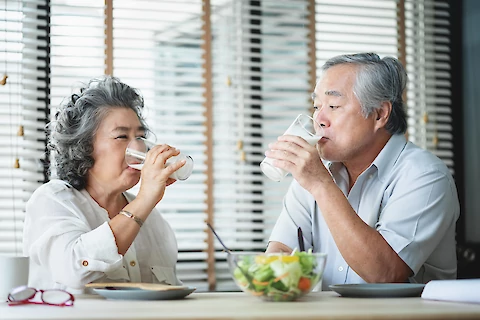 Calcium represents the most prevalent mineral in the body. We mostly hear about calcium and bone health since 99% of our calcium gets stored in the bones, and the other one percent is hard at work on the cardiovascular and nervous systems. Calcium communicates to the cells and tissues while it sends signals throughout the body through the nervous system. It also assists in hormone secretion.
The Health and Medicine Division of the National Academies of Sciences, Engineering, and Medicine recommends 1000 milligrams of calcium per day for men and women between the ages of 19 and 50. After age 50, the recommended daily allowance (RDA) for women increases to 1200 milligrams. As women approach menopause and post-menopause, they are likely to experience bone loss. If a woman receives an osteoporosis diagnosis, her physician may prescribe as much as 1500 milligrams of calcium daily.
At Senior Helpers of Tempe, we want seniors to have the information they need about the best sources of calcium.       
8 Great Sources of Calcium
Calcium supplements are often prescribed or recommended for women with osteopenia or osteoporosis or for people with conditions that interfere with calcium absorption. However, scientists and the medical community agree that getting at least half of your calcium from food is ideal.
Some of the excellent food sources for calcium include the following:
Dairy products such as milk, cheese, and yoghurt represent a natural source of calcium with superior absorption.
Dark green, leafy vegetables such as kale, mustard, and collard greens have significant amounts of calcium.
Soybeans and edamame offer vegans a great source of that much-needed nutrient. 
Calcium-enriched foods, including cereals, orange juice, and plant-based milk, are good to add to your diet.
Fruits such as figs, papaya, and oranges give you the sweetness and fiber of fruit while also providing calcium.
Baked beans contain a good amount of calcium and a lot of fiber. A can of baked beans will make that occasional hot dog meal much healthier.
Canned salmon is rich in calcium. Why not make some delicious salmon burgers?
Flour tortillas offer guilt-free carb consumption while providing 90 milligrams of calcium in each 10-inch tortilla.
4 Calcium Sources You May Want to Avoid
Though we all need calcium, some sources come with potentially adverse effects. Consider the points below when adding calcium to your diet.
High-dosage supplements may cause digestive issues, and some studies suggest high doses of calcium may contribute to heart conditions and some cancers. It's advisable not to take a higher dose than a healthcare professional prescribes.
Leafy greens such as spinach contain high amounts of oxalates. Some individuals need to limit their consumption of oxalates, especially those prone to kidney and bladder stones.
Soy-based products are also high in oxalates and may also cause digestive problems.
Dairy products high in fat and sugar, such as ice cream, flavored yogurts, and even whole milk, may not represent the best choices for consuming calcium. Reduced-fat milk and plain Greek yogurt provide better alternatives. Also, it's a good idea to limit high-fat cheeses such as brie and camembert and save them for parties. Better choices for cheese lovers to get their calcium include feta, mozzarella, and goat cheese.
We're Here to Help
If you need suggestions on calcium sources for seniors, we're here to help. Senior Helpers of Tempe serves seniors and their families in Tempe, Ahwatukee, Mesa, Chandler, South Phoenix, Central Phoenix, Arcadia, Biltmore, Laveen, Sun Lakes, Queen Creek, Gilbert, San Tan Valley, Casa Grande, and Maricopa. Contact us to learn more about our in-home senior care services.