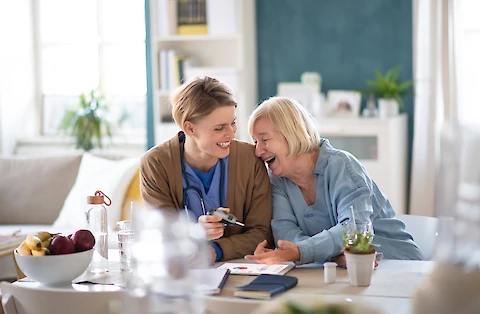 According to the American Diabetes Association, 15.9 million Americans age 65 and older (29.2%) live with diabetes. It is one of the biggest issues in American history.
To successfully manage diabetes, people with diabetes must learn how to effectively monitor their blood sugar levels, keep track of diabetic treatments, and change a broad range of habits and behaviors. This presents a challenge to seniors, especially those with mental and physical limitations, such as visual or cognitive impairments and limitations in joint mobility or dexterity. It can seem impossible, especially if you have been newly diagnosed and aren't used to keeping up with tracking and monitoring.
If you have been recently diagnosed with diabetes and are wondering how to manage it with the many upcoming holiday plans, this guide will show you what to do to ensure you don't forget vital steps and always have what you need.
How New Elderly Diabetics Can Manage Diabetes
If you develop diabetes, whatever your age, your goal is to keep your blood sugar under control and prevent complications. As a new elderly diabetic, you can achieve that by considering the following tips.
1. Keep a handy record of current medications and supplements
A handy record of all active and future medications is very important for newly diabetic seniors. The record should contain all the medications and supplements, their dosage, time of day, and potential side effects.
The record will help you remember to take medications; if someone else is responsible for administering them, they will do it right. The record is also important because sometimes, you see multiple doctors in Tempe who need full medication information.
2. Consider other forms of medication
It can be hard to maintain diabetic treatments if you have challenges like joint limitations and swallowing. But medications come in various forms, such as liquid, pills, or insulin pens, to accommodate these challenges. Ask your doctor whether there are alternatives.
3. Build a team of medical partners
As a new diabetic, you will likely get confused with all the medications and checkups. It may be helpful to build a team of medical partners with whom you can regularly check in to confirm whether you're managing your diabetes well. Your team should include medical partners such as:
Your primary care provider
Endocrinologist
Pharmacist
Diabetes educator
Eye care provider
Podiatrist
Constantly checking in with your team will ensure you successfully track diabetic treatments and blood sugar.
4. Use mobile apps and devices
Mobile apps make it possible to track everything. And because most of us keep our phones on us almost always, new elderly diabetics can use them to log their medications and blood sugar levels. They can also keep track of your nutrition and physical activity.
Devices like glucose monitors, which you wear on your skin, can monitor your blood sugar continuously. They connect with mobile devices, constantly logging the readings and alerting you when they reach critical levels.
There are several apps and devices you can use to keep track of diabetic treatment and blood sugar. They can help you, as a new elderly diabetic, manage your illness while juggling your busy life.
5. Work with a caregiver
Some seniors with complex health care needs like polypharmacy, cognitive impairment, and other coexisting chronic illnesses should consider working with a caregiver in Tempe.
Caregivers can assist with several tasks, such as getting the right food, providing medication, keeping track of blood sugar and treatment, preventing falls, and monitoring them. Doctors recommend lifestyle changes like quitting smoking, losing weight, exercising regularly, etc., to prevent other conditions. A caregiver can help the person with diabetes make lifestyle changes and ensure they don't miss any checkups.
Maintain Your Life Quality with Senior Helpers Tempe
If controlled well, people living with diabetes can live long, healthy lives. It won't detract from the quality of your or your loved one's life, but you must adjust your daily routines. The above tips should point you in the right direction.
Suppose you live in Tempe, Ahwatukee, Mesa, Chandler, South Phoenix, Central Phoenix, Arcadia, Biltmore, Laveen, Sun Lakes, Queen Creek, Gilbert, San Tan Valley, Casa Grande, or Maricopa. In that case, you can benefit from the services of Senior Helpers. We are a premium in-home care provider with a comprehensive suite of programs and services that can help keep track of diabetic treatments and blood sugar. We can ensure they take medication, go for checkups on time, and adhere to the doctor's recommendations for a long, healthy life.
Get in touch with us today to discuss how our in-home senior care services can benefit you or your loved one.