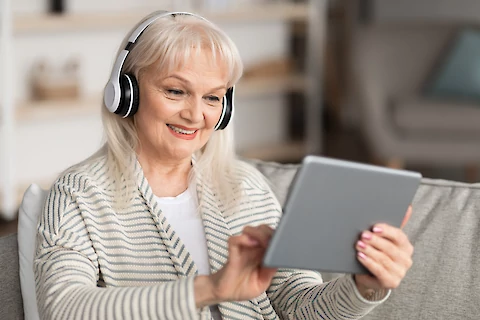 4 Technologies for Fun and Safe Online Interactions for Seniors
With fun-filled technologies and apps, older loved ones can bid farewell to loneliness and stay in touch with those who matter most in their lives. And a robust solution takes frustration away from the fun and ensures no bad actor takes advantage of them. 
However, the internet is awash with millions of solutions that promise gold but deliver dust. But your hunt ends today.
Let's walk through a list of online technologies that boost online interactions with friends from Tempe and anywhere on the planet.
1. GrandPad Tablet
With the GrandPad tablet, even non-tech-savvy individuals can now have online interactions through a video chat with friends and family, show their prowess in games, and nod their heads to their favorite 1980s music. A subscription package that includes insurance coverage and a private family network is all they need to keep the happiness flowing.
The loved one can add media, update contact details, and do more without having to set up a modem or remember passwords. And they can get a brand new tablet at no extra charges, thanks to the insurance cover.  
Here are more features waiting for them:
Protection from cyber criminals
Around-the-clock support team
Voice-automated emails
Stylus pen to boost accuracy
Large text for seamless readability
2. Words With Friends
Are you looking for online interactions through word games for your buddy? Words With Friends is a fun and relaxed game where they can showcase their ingenuity in words while socializing with friends and family. 
The individual can dive in and play against or with their friends or imaginary characters. And if the game gets harder, they can take a break. That's how your older person can rejuvenate their creativity and leave their competitors in the dust. And tracking progress is a breeze. 
Here are some of the features of the online interactions they'll love:
Smart-matching features that find a worthy opponent
Solo player mode to boost word skills 
Lightning duels that improve quick thinking
Track milestones and grab rewards
3. Amazon Echo Dot
These intelligent, compact speakers allow older adults to get entertainment and do more. They can chat, play games, stream music, get weather and news updates, set medication alarms, and create healthy grocery lists. 
The Alexa app comes with extra safety features to keep their homes safe. It gives alerts for any incidence of breaking glass, smoke, and carbon monoxide. More features include:
Hands-free phone calls
Voice controls to switch on lights, close doors, and change thermostat settings
Wi-Fi connectivity
Privacy protection
4. Fun Bridge
Fun Bridge is another app that keeps the fun going despite the distance between older people and their loved ones. They can play against their friends or in a tournament from the comfort of their couch. 
Is the person greenhorn in the game? The app will sharpen their prowess from scratch. After all, learning is endless- it's not just for the younger generations.
Diverse game modes to choose from: From series tournaments to "face the elites" to exclusive tournaments, your loved one will always have a game to conquer
Take a break and return fully recharged
Chat with friends online
Befriend AI for hints and strategies
A Robust Technology Plus, a Caring Caregiver, Produce Happy Moments Even Through Online Interactions
The hunt for safe and robust entertainment technology is now over. Older people can now immerse themselves in fun-filled challenges while staying in touch with friends and families. 
But they need a human helper too!
Are you looking for the right technology and customized in-home care in Tempe, Phoenix, and the entire Maricopa County? Senior Helpers Tempe has your back. Contact us to schedule an in-home assessment today.