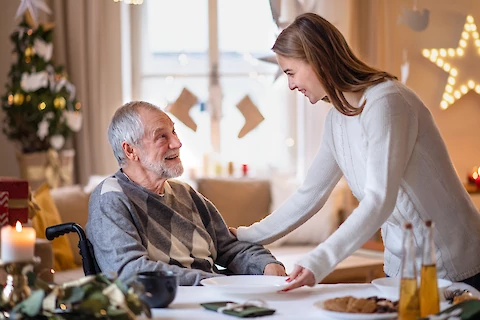 As the weather turns colder, homeowners with elderly parents or grandparents living in their houses must take extra precautions to ensure these seniors are safe. Winter home maintenance can be hazardous for seniors who have difficulty with physical activities due to age or health issues.
Here's a quick look at home features that are potentially hazardous for seniors in the winter and the corresponding home changes that can mitigate the danger and reduce the risk of injuries, frustration, or limited mobility within the home.
Slip and Falls
According to the CDC, a senior citizen in the US suffers a fall every second of every day. This makes slip and falls the number one cause of injury and injury-related death among persons over 65. And the winter months bring additional hazards that increase the risk of slip and fall accidents.
To reduce the risk of slips and falls in Arizona cities like Ahwatukee, Mesa, Chandler, and South Phoenix, there are some home changes homeowners can make:
Install handrails on all staircases.
Place non-slip mats near the bathtub and shower.
Make sure all pathways are free of clutter or snow/ice.
Place non-slip treads on all outdoor steps.
Fasten carpets and rugs securely to the floor.
Install grab bars in bathrooms and other areas of the home.
House Fires
Winter months also increase the risk of house fires due to furnaces, space heaters, fireplaces, and other heating appliances. Seniors may not be aware of these appliances' hazards and may be less likely to leave a house in time if a fire starts.
To reduce the risk of house fires, homeowners in Central Phoenix, Arcadia, Biltmore, Casa Grande, and Maricopa should:
Have all heating appliances inspected and serviced regularly.
Check wiring periodically and replace any frayed or damaged cords.
Install smoke detectors in all rooms, including bedrooms.
Check chimneys for obstruction and clean them regularly.
Keep combustible objects away from heating appliances.
Have a fire extinguisher on hand and know how to use it.
Carbon Monoxide Poisoning
Carbon monoxide poisoning is another hazard to look out for in the winter, as heating appliances can produce this odorless, colorless gas. Seniors may not be aware they are being exposed to this gas, and the symptoms can easily be mistaken for the flu. That is why homeowners need to take these steps to reduce the risk of carbon monoxide poisoning:
Have all heating appliances and chimneys inspected annually.
Install carbon monoxide detectors in the home.
Do not use a gas oven or stove to heat the house.
Never use charcoal indoors.
Vent all heating appliances properly.
Hypothermia
Seniors may be more vulnerable to hypothermia as temperatures drop due to age and underlying medical conditions. Seniors may find it hard to detect when they're getting too cold, which is risky since they lose body heat more quickly than the average adult. Besides, most seniors have conditions like arthritis, Parkinson's disease, diabetes, memory loss, and thyroid disease, which make it harder to stay warm.
To prevent hypothermia, homeowners should:
Keep the home warm by regulating the temperature.
Encourage seniors to dress in layers of loose-fitting, warm clothing.
Check on elderly family members regularly and supply them with blankets.
Encourage seniors to eat regular meals, as food provides the body with energy to keep warm.
Check on their medications, as some can lower their body temperature.
These winter-related hazards can be dangerous for seniors, yet following the above tips will help reduce the risk of injury or illness. Homeowners in Laveen, Sun Lakes, Queen Creek, Gilbert, and San Tan Valley, who need help executing these changes or providing oversight, can reach out to Senior Helpers of Tempe. Our team of certified caregivers has the expertise and experience to ensure seniors stay safe and comfortable during the colder months. Contact us to learn more!