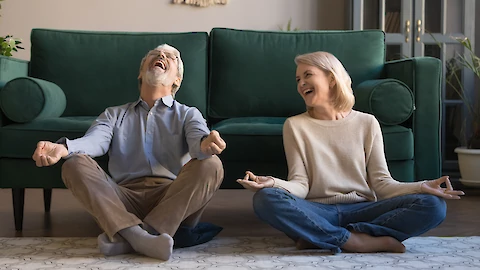 Meditation has been gaining popularity in recent years, and for good reason. This ancient practice can improve focus, reduce anxiety, and boost overall well-being, particularly benefiting seniors. However, convincing the elderly to try meditation can prove challenging for caregivers, family members, and professionals alike. Here are a few tips:
1. Educate Seniors on the Benefits of Meditation
One of the best ways to encourage seniors to try meditation is by sharing the wealth of research and information on its benefits. Explain how meditation has been scientifically proven to improve focus, reduce anxiety, and promote overall well-being, particularly in seniors. Share personal experiences or success stories you've heard or read about to further illustrate the potential advantages. By providing seniors with a clear understanding of how meditation can positively impact their lives, they may be more inclined to give it a try.
2. Find Local Meditation Groups for Seniors
Another effective strategy is to seek out senior-friendly meditation groups in your area. These groups often provide a welcoming and supportive environment that can make the introduction to meditation much more enjoyable for seniors. Attend a group session together, offering your support and encouragement throughout. After the session, discuss the experience and consider making it a regular activity for the senior in your care.
3. Utilize YouTube-Based Meditation Practices
YouTube is an excellent resource for finding age-appropriate and beginner-friendly meditation videos. Participate in the meditation practice together with the senior, providing guidance and support as needed. This shared experience can help the senior feel more comfortable and confident in trying meditation. Additionally, encourage the senior to continue practicing on their own or with a caregiver, building a consistent meditation routine.
4. Incorporate Meditation Into Daily Routines
Developing a consistent meditation routine can be crucial to reaping its benefits. Suggest specific times during the day for the senior to practice meditation, such as after breakfast or before bed. Creating a comfortable and peaceful meditation space can also be helpful in establishing a meditation routine. The more consistently the senior practices meditation, the more likely they are to experience its positive effects.
5. Provide a Variety of Meditation Styles and Techniques
There are various meditation styles and techniques, and introducing seniors to an assortment can help them find what works best for them. Consider teaching seniors about mindfulness, loving-kindness, and body scan meditation practices, among others. Be open to adapting and modifying meditation practices to suit the senior's needs, preferences, and abilities. This flexibility can result in a more enjoyable and effective meditation experience for the senior.
6. Be Patient and Supportive Throughout the Process
Seniors may be hesitant or resistant to trying meditation. Offer encouragement, reassurance, and patience as they learn and practice. Understand that it may take time for the senior to feel comfortable with meditation and to experience its benefits. By providing unwavering support and understanding, you can help the senior navigate this new practice with greater ease and success.
Senior Helpers Tempe Can Help Seniors Explore Meditation
The journey to introducing meditation to seniors in your care may require creativity, persistence, and patience. By utilizing these strategies, you can support your loved ones or clients in exploring the many benefits of meditation. Senior Helpers Tempe provides premium senior care in Tempe, Ahwatukee, Mesa, Chandler, South Phoenix, Central Phoenix, Arcadia, Biltmore, Laveen, Sun Lakes, Queen Creek, Gilbert, San Tan Valley, Casa Grande, or Maricopa areas and seeking caregiving support. Contact us today to learn more about our services.