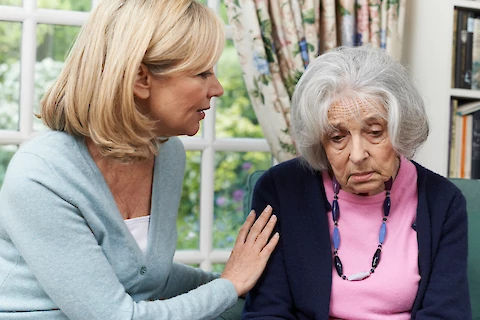 Caring for a senior with Alzheimer's can be emotionally and physically demanding, especially when they begin to experience sundowning symptoms. You may notice your loved one becoming increasingly agitated, anxious, or confused as the sun begins to set. Caregivers must also prioritize their own well-being during these challenging times. This Senior Helpers Tempe blog post offers ten essential mental health tips to reduce stress and promote overall wellness while caring for a senior with sundowning symptoms. 
1. Educate Yourself On Sundowning
Understanding the causes, triggers, and strategies for handling sundowning can help you feel more prepared and empowered in your caregiving role. Stay informed by reading articles, attending workshops, or joining online forums focused on Alzheimer's care and sundowning.
2. Establish a Routine
Create a consistent daily schedule for your loved one to prevent anxiety and confusion. Be sure to identify and avoid any potential triggers for sundowning, including loud noises or large crowds. Remember that it is important to continually adjust the routine based on your loved one's needs and preferences.
3. Get Enough Sleep
Sleep is essential for both the caregiver and the senior, especially during more challenging times. Keep a comfortable sleep environment for your loved one. Encourage regular naps and provide relaxation time for both of you. Practicing good sleep hygiene, including limiting screen time before bed and maintaining a consistent sleep schedule, promotes restful sleep for everyone.
4. Seek Support From Others
Seeking support from others can greatly reduce stress and improve your mental well-being. Join a support group for caregivers of seniors with Alzheimer's, or reach out to friends and family for emotional support. Don't be afraid to ask for help. Consider respite care or professional caregiving services for temporary relief when needed.
5. Practice Stress Management Routines
Practicing mindfulness and stress management techniques helps you maintain a positive outlook and better handle challenging situations. Try engaging in deep breathing exercises, meditation, or gratitude journaling. Stress-relieving activities like exercise, creative hobbies, or spending time in nature can improve your mental well-being.
6. Communicate With Health Care Professionals
Open and ongoing communication with your loved one's healthcare professionals is key to managing sundowning symptoms. Discuss their condition and progress regularly, ask questions, and seek advice on how to handle difficult situations. Be an advocate for your loved one's needs and preferences when it comes to their care plan.
7. Set Realistic Expectations
It is important for caregivers to set realistic expectations for themselves. Accept that caregiving can be challenging and that you may not be able to prevent sundowning symptoms all the time. Set boundaries for personal time and self-care to avoid caregiver burnout. Giving yourself permission to take breaks and ask for help is essential for maintaining your mental health.
8. Focus on Nutrition and Health
Your loved one needs to maintain a balanced diet to support their overall health. It is also a good idea to encourage regular physical activity for both of you. Don't neglect your own health, prioritize self-care, and seek medical attention when needed.
9. Maintain a Sense of Humor
Maintaining a sense of humor can lighten the atmosphere and provide relief from stressful moments. Find opportunities to share laughter and joy with your loved one and other caregivers. Remember that laughter is a powerful stress reliever that can benefit both you and the senior in your care.
10. Practice Self-Compassion
Acknowledge the challenges and emotions that come with caregiving and remind yourself of the positive impact you are making in your loved one's life. Be kind to yourself and practice self-forgiveness when things don't go as planned.
Senior Helpers Cares For Those Who Care
Prioritizing your own mental health and well-being is essential when caring for a senior with sundowning symptoms. Implementing these tips can help reduce stress and improve your quality of life as a caregiver. For those living in Tempe, Ahwatukee, Mesa, Chandler, South Phoenix, Central Phoenix, Arcadia, Biltmore, Laveen, Sun Lakes, Queen Creek, Gilbert, San Tan Valley, Casa Grande, and Maricopa, Senior Helpers Tempe can help! Contact us for professional caregiving support and respite care services.