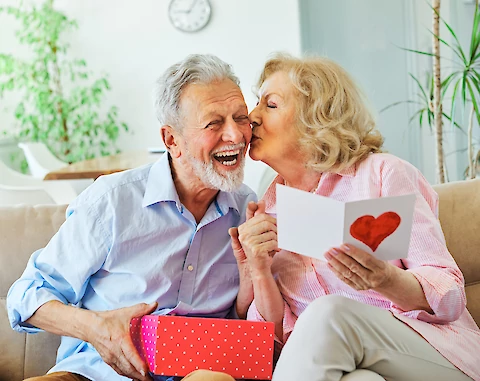 Valentine's Day is one of the most memorable days for couples, regardless of age. Many seniors feel lonely on this day and may not have any close relatives or friends to celebrate with. Whether you celebrate together or alone, you can do great budget-friendly things at home to celebrate and make the day special.
Cook a Special Meal at Home 
Cooking dinner is one of the most budget-friendly yet enjoyable activities on Valentine's Day. You can make your favorite dishes or try something new. If you're feeling creative, search for some themed recipes that add a layer of fun and festivity to the meal.
Play Games 
You can enjoy so many great games on Valentine's Day, whether on your own or celebrating with others. Two-player card games are great for couples. Seniors celebrating alone may consider treating themselves to a new puzzle book. Even better if you can make them Valentine's Day themed.
Go for a Nature Walk 
A nature walk is an excellent way to get some fresh air and connect with nature - plus, it's free! Spend time admiring the beauty of the outdoors by exploring local hiking trails or planning a picnic in the park.
Visit a Local Park or Museum
You don't have to spend much money to enjoy Valentine's Day. Visiting a museum or local park can be both fun and educational. Depending on your location, many museums often offer discounted or free tickets for seniors.
Create a Photo Album or Collage 
Creating a photo album or collage is a great way to celebrate Valentine's Day and create lasting memories. You can use photos from special occasions, trips abroad, holiday celebrations - anything that captures your favorite memories of loved ones.
Have a Movie Marathon 
Nothing says Valentine's Day quite like a good movie night! Pull out your favorite romantic comedies and dramas, get some popcorn and snacks, and dim the lights - it's time for a movie marathon!
Make Gifts For Each Other at Home
Why not make simple homemade gifts for a unique budget-friendly way to express your love for one another this Valentine's Day? Whether it's a handcrafted necklace or something as simple as decorating a jar together, taking the time to create can be incredibly meaningful and memorable. You can trade them with your Valentine or surprise a neighbor with a special homemade treat.
Have an At-Home Spa Day
Spa days don't have to be expensive. You can enjoy a relaxing spa day at home with simple ingredients. Make face masks out of honey, give each other massage treatments, or even paint nails together!
Where to Find Coupons to Help You Save on Valentine's Day
For seniors looking to save on the usual Valentine's Day expenses, check online for discounts from local restaurants, florists, and other retailers in the College Station area. These websites are a great place to start:
Looking for More Ways to Make This Valentine's Day a Special One?
You can celebrate Valentine's Day without spending a lot of money. With creativity and thoughtfulness, you can show your love for yourself and others in meaningful ways.
We understand the importance of this day for seniors and their loved ones. Senior Helpers Bryan/College Station serves Bryan, Conroe, College Station, Livingston, Montgomery, and Huntsville. We can assist you or your loved one to have a safe but enjoyable Valentine's Day at home! Contact us today to learn how we can help make your day extra special.